Navigating the realm of technology upgrades can often be a complex journey, but with the right roadmap, the process can be streamlined and successful. In this comprehensive guide, we will walk you through the step-by-step process for achieving a seamless and successful upgrade of your Oracle Retail Xstore POS system. Whether you're looking to enhance functionality, optimize performance, or stay up-to-date with the latest features, this guide will provide you with valuable insights and strategies to ensure your Oracle Retail Xstore POS upgrade is a resounding success. Let's embark on this journey together and unlock the full potential of your retail technology.
Advantages of Oracle Retail Xstore POS
The latest versions of Oracle Retail Applications, including Xstore POS version 23, have brought a wave of innovation to the retail industry. From enhanced Self-Checkout (SCO) capabilities and improved mobile usability to a fresh Desktop UI and upgraded country pack accelerators, the benefits are numerous. With features like temporary stores, the integration of the latest payment technology trends (such as pay by link), and a host of technical enhancements including improved security and a container-ready mobile server, Oracle Retail Xstore POS version 23 and its predecessors offer a comprehensive package for retailers.
Staying up-to-date with these advancements is essential for any retailer aiming to remain competitive in the ever-evolving retail landscape. However, the process of upgrading, whether for Oracle Retail Xstore or any other POS system, can be complex and challenging. These upgrades come with a variety of challenges – not just functional or operational, but also technical in nature.
At SkillNet, we recognize the significance of keeping pace with technology trends while mitigating the challenges that come with upgrading. We believe that the process before deciding to upgrade is as important as the upgrade itself. Hence this blog not only covers the steps to be taken before a decision has been made to upgrade but also covers the innovative methodology developed by SkillNet for Xstore POS upgrades post the upgrade decision. SkillNet's Oracle Xstore POS upgrade approach has proven its efficacy over time, adapting seamlessly to the diverse needs of retailers. With our expertise, navigating the landscape of POS upgrades becomes not only manageable but also an opportunity for growth and enhancement.
Guidelines for a Smooth Oracle Xstore POS Upgrade
Before the Upgrade – Ensure Alignment of Business and IT Objectives
To ensure the successful upgrade of XStore POS, meticulous planning is essential to harmonize business and IT objectives. Both business and IT stakeholders play integral roles in this process, contributing to the overall upgrade's effectiveness. Before embarking on the system upgrade journey, it is imperative to execute the critical steps outlined in the subsequent chart. These steps aim to synchronize the role of IT with the overarching business objectives, paving the way for a seamless upgrade experience.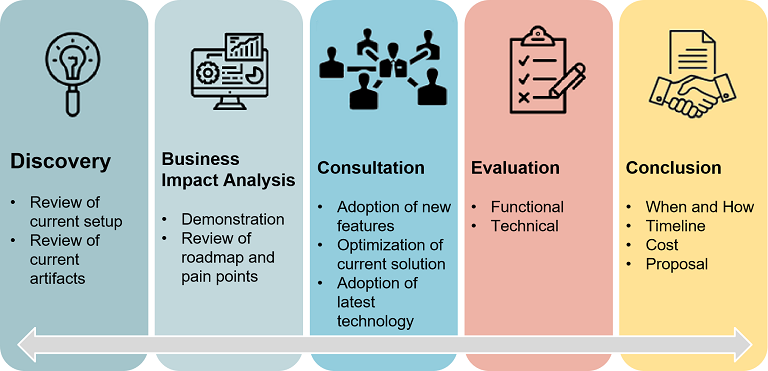 Discovery/ Preliminary Investigation
• During this stage, the focus will be on gathering and assessing the current functional and technical artifacts/systems. There should be a thorough evaluation of the existing IT infrastructure to create a comprehensive list of all existing artifacts.
• Collaboration with both Business and IT will entail a thorough review of current solutions, configurations, and extensions implemented in the current version of Xstore POS.
• The latter part of the discovery/PI phase will involve conducting a Gap Analysis between the Existing System and the proposed system. This will also encompass high-level discussions and forecasts regarding the TO BE architecture and solution landscape. These steps will lay a solid foundation for the overall project
Business Impact Analysis (BIA)
• During the Business Impact Analysis (BIA) phase, we get a firsthand look at the new features and enhancements introduced in Xstore POS over time. These sessions cover not only the latest features but also exciting improvements to existing ones.
• Within these sessions, we take the opportunity to grasp the perspectives of both Business and IT regarding the new features. This enables us to establish their relevance to the business effectively. We also extend our discussions to understand the challenges faced by Business and IT, noting them down. Subsequently, our partners delve into investigating whether these challenges can be systematically or operationally resolved using enhanced features, with minimal disruption to business operations. For instance, if Business and IT operations find setting up and maintaining event stores challenging, upgrading to a new version of Xstore POS could provide a solution, such as the Temporary Store feature.
• The BIA phase also encompasses discussions about roadmaps, future expansion plans, operational wishlist like next-gen mobile-only store with Business and IT leadership. This ensures our approach is in line with their plans, fostering alignment among all stakeholders.
• In the latter part of this phase, we thoroughly review the Functional Design Document (FDD) and Technical Design Document (TDD) to gain a deeper understanding of existing processes and extensions.
• These sessions are designed to engage all stakeholders in thoughtful discussions, ensuring our approach is tailored to the purpose at hand. This approach aids in evaluation and forming well-informed conclusions.
Engaging Business and IT for Enhancement and Optimization
• Throughout this process, business scenarios that call for changes in existing configurations can be addressed. Additionally, IT-specific configurations pertaining to persistence and broadcasters could be reviewed and adjusted.
• Some extensions might be assessed from a legal standpoint, with decisions made to either retain or replace them in compliance with regulations by adopting a new version of Xstore POS. From time to time, Oracle releases the latest versions to be compliant with the latest regulations of a particular country accelerating the overall implementation timeline.
• IT-specific decisions will also be addressed in consultation with leadership. These might include embracing new technologies like cloud computing, optimizing infrastructure, or adopting new hardware.
Evaluation
• Following the efforts expended in Discovery and BIA, we consolidate the information and present it in a manner conducive for qualitative and quantitative decision-making by key stakeholders.
• The evaluation also encompasses considerations for potential changes to the architectural landscape (if needed). Occasionally, retailers might be using outdated hardware models that aren't compatible with the latest software requirements, such as Java. In such scenarios, we may need to explore alternatives, including hardware upgrades.
• Every retailer must also evaluate the new features and enhancements against the potential trade-off of losing Premier Oracle Support (as detailed in Oracle retail documentation). Some retailers might not prioritize this factor significantly if they are already engaged with SkillNet Support Services.
• All this information and assessment insights are synthesized into a comprehensive report. This report not only includes the assessment results but also a catalog of potential activities, their complexities, benefits, drawbacks, and possibly associated costs. This report serves as a foundational document as we progress to the subsequent step: making the final decision.
Upgrade Decision (Conclusion)
The decision to upgrade Xstore POS hinges on several factors, encompassing considerations such as the method and timing of the upgrade, associated timelines, costs, and the overarching impact on both Business and IT operations. Recognizing the substantial nature of this impact, we value the role of our adaptive methodology and the accelerators devised by SkillNet, which significantly streamline this journey. With a focus on transparency, stakeholders are assured of complete visibility into the progression and implications at every step of this journey.
Post Decision Making
With the decision to proceed with the upgrade in place, the process delves into a comprehensive assessment and upgrade initiative. As key stakeholders, the involvement of Business and IT leadership remains crucial to solidifying the TO BE solution. Once the core team is mobilized, they can execute their designated tasks and activities. As your implementation partner, we extend our assistance beyond the upgrade itself by aiding in certain tasks, all while adhering to our established methodology.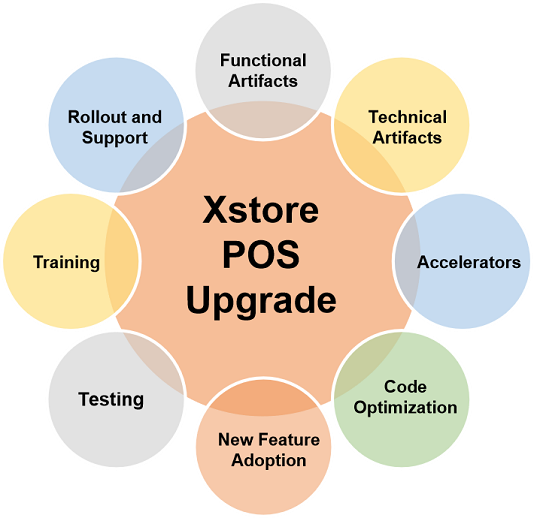 Use of Accelerators (Modern Commerce Engine)
Accelerators encompass a collection of standardized procedures or the utilization of specific programs or technologies designed to condense the overall project timeline while maintaining the quality of deliverables. When it comes to Oracle Retail Xstore POS Implementation or Upgrade, SkillNet has developed its own accelerators (Modern Commerce Engine), empowering our clients to achieve remarkable project completion times. As a result, we strongly advocate leveraging accelerators such as StoreHub for Integration, DevOps and our adaptive automated test case pack for optimal outcomes.
Upgrade
Based on assessment and inputs from Business and IT, Xstore POS upgrade is carried out through below typical steps using SkillNet's proprietary methodology and artifacts:
Upgrade and enhancement of existing FDD
Xstore POS Base Code Upgrade
Porting of extensions
Testing
Following the creation of the upgrade build, it undergoes deployment and testing using our distinct DevOps methodology.
The comprehensive testing includes a mix of automated and manual procedures. Manual testing might be essential for certain components like integrations and hardware.
A SkillNet QA-certified build will be provided to the Client for user certification. Retailers will conduct System Integration and User Acceptance testing. SkillNet can also offer testing as a service to expedite the testing phase.
Training
A "train the trainer" activity might be necessary, depending on the adoption of new features, configuration changes, and new extensions. The store manual could also be updated to align with the enhanced capabilities of the upgraded system.
Pilot and Rollout
After the build is certified and deemed ready, it can be introduced to a pilot store before being rolled out across the entire estate based on the schedule. Following the pilot phase, SkillNet can provide hypercare support and ongoing Production Support Services as well.
SkillNet has completed Xstore POS upgrades in a rapid timeframe of 4-5 months, but the duration can vary based on retailer-specific complexities. As the foremost experts in Oracle Retail Xstore POS implementation and upgrades, we collaborate with diverse global retailers encompassing multi-country and multi-brand configurations. Our involvement spans consulting, implementation, upgrade, testing, support, omnichannel enablement, and integration with various retail systems such as inventory management, ERP, and eCommerce platforms, among others.
SkillNet Oracle Retail Solutions
Since 2005, SkillNet and Oracle Retail have achieved remarkable success by executing numerous retail transformation initiatives across NA, EMEA, LATAM, and APAC. Our expertise spans Omnichannel, Stores, Merchandising, and Planning, encompassing the entirety of Oracle's Retail portfolio. We are dedicated to assisting retailers at every stage of their digital evolution.
SkillNet has also created a suite of catalysts known as the Modern Commerce Engine. These accelerators are readily available for tasks ranging from implementation and upgrades to customized projects and continuous support for the Oracle Retail Suite. Tailoring our approach to each customer's digital transformation journey, the SkillNet team harnesses these accelerators to enhance the quality of delivery, hasten time to market, and optimize costs.