Oct. 2023 – Updated to include Oracle Xstore POS Version 23
A modern Point-of-Sale (POS) solution is critical to delivering the enhanced digital experience customers expect in stores. Even if we look back to five years, POS systems have greatly advanced since the Pandemic forced not only retailers to reimagine their businesses, but also POS solution providers to meet, and anticipate, new customer expectations. In order to offer customer journey enhancements such as buy online and pick up in-store, lane busters, kiosks, etc., most retailers will have to upgrade their POS systems. In addition, when upgrading their POS, Retailers often find out that they can save on overall costs by moving to the Cloud, but that is another blog.
How to decide whether to upgrade a POS system?
One of the main reasons Retailers typically avoid upgrading their POS is not only the price, but the difficulty in assessing the complete effort. In the past, Retailers often engaged solution or consulting partners in three-to-five-month discovery sessions to help identify what customizations were made and what business processes may need to be revised. These discovery sessions are required as typically large Retailers lack the institutional knowledge on changes made to the base code and base processes (and why), as team members move on and original documentation is not maintained once the initial legacy POS implementation project is completed.
The discovery estimation effort in itself is quite costly as it requires not only external expertise, but the Retailer's internal team to spend months documenting current processes and transferring that knowledge to the hired consultants and/or solution provider.
Using SkillNet's AI Accelerator to fast-track your upgrade estimation
To alleviate this costly Discovery process, SkillNet has developed an AI tool, specifically meant for Oracle Xstore POS Version 23. The tool can quickly and accurately identify deviations from the base code. This tool not only helps identify legacy customizations, extensions, and enhancements but also helps identify where the business processes may not match best practices.
While the new tool may not completely eliminate the Discovery process, it will greatly reduce the time, effort, and price. It also greatly reduces the pain point in estimating an upgrade's budget.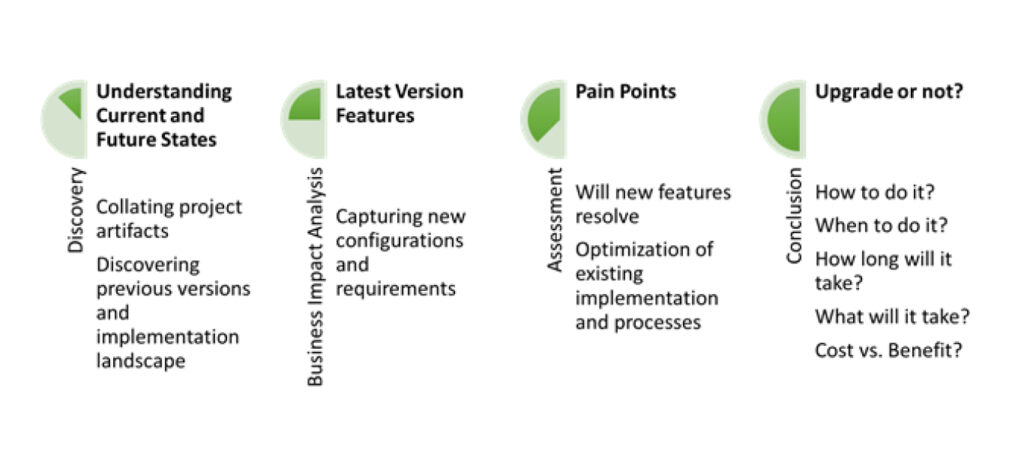 Do you need help with your Oracle Retail Xstore POS Upgrade?
Oracle Retail Xstore POS Upgrade
SkillNet, which is #1 in Oracle Xstore POS implementation & upgrade gets engaged by various global retailers to assess whether they needed to upgrade from the previous version of Xstore to the latest available version. Based on the hundreds of implementations and upgrades we have done over the past years, we put together a list of factors for the client to consider when determining an upgrade strategy.
While the Oracle Retail POS team has made several improvements to Oracle Xstore POS over various versions, here is the list of 7 features which we consider are the most important: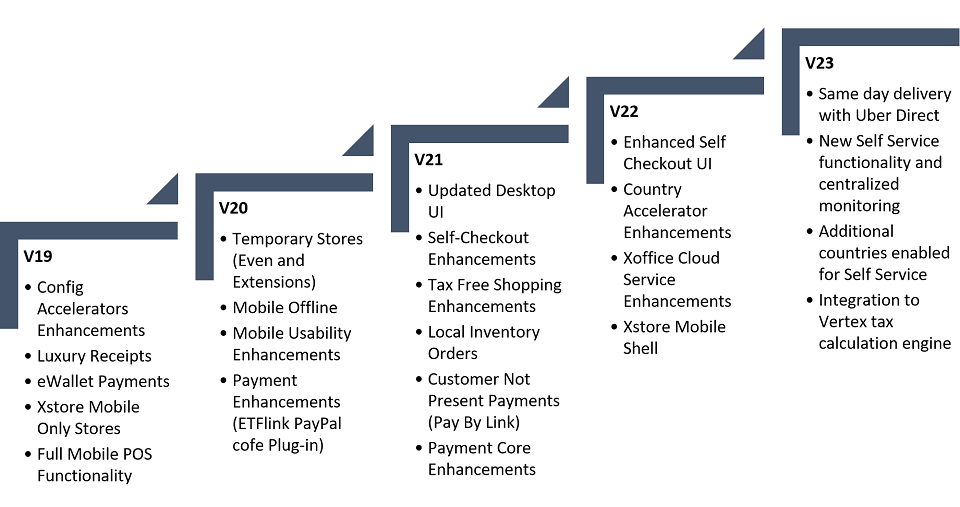 Feature 1: Self-Checkout and Kiosk
In most recent versions Oracle Retail POS team has added an alternate user experience (same application, same business logic) that will allow customers to scan their own items and pay with different non-cash tender types. This new functionality can be used with existing register hardware or with a kiosk. Considering the labor shortages across the globe, this will continue to be a popular feature with additional enhancements to come. The new UI, which is supported on multiple devices focuses on usability and delivers a streamlined checkout experience for the shopper with customer functions and associate functions.
Feature 2: Tax-Free Shopping Experience
For global retailers, Oracle Xstore POS can now provide tax-free invoices that make it easier for customers to claim a tax or VAT refund. It integrates with leading tax-free solution providers such as Fintrax (a.k.a Premier Tax Free), Global Blue and Planet Payment.
Feature 3: Globalization and Configuration Accelerators
One of the larger efforts when implementing Oracle Xstore POS is setting configurations to align with evolving fiscal requirements. To help accelerate this process, Oracle Retail has created bundles of pre-set country configurations related to formats (date, time, address, phone, etc), legal limits, tender types, and invoicing. These bundles already existed for certain countries such as France, Germany, and Brazil, etc. but with new releases, retailers will see enhancements to meet the updated regulations, especially anti-money laundering, etc. across various countries. Globalization enhancements now include improved tax id and fiscal code checks, invoice and credit note layouts, fiscal receipts, etc.
Feature 4: Enhancements to Mobile Stores
New features now allow a retailer to operate Oracle Xstore without a fixed register and support multiple mobile servers. When necessary, new features also allow for shared peripherals such as printers, tender drawers, and payment devices. The recent enhancement will allow updates to be retrieved dynamically from the Oracle Xstore Mobile server to reduce the need to update Xstore Mobile client devices via MDM or similar technologies.
Feature 5: Temporary Stores
Retailers seem to be quite excited about supporting temporary stores for events. Strategically, this allows stores to bring the shopping experience to the customer. As shopping center traffic continues to recover, retailers can use this functionality to offer products and services in not only temporary spaces in traditional shopping areas (think of a mass merchant opening a special Halloween shop in dead space at a mall from August through October) but at music festivals and other outdoor venues. Inventory can either be unique for a one-time pop-up store, or shared with a physical location for an event. Oracle Retail has also developed remote servers that can support transacting via wireless communications. Obviously, eCommerce and curb-side pick-up features helped many clients survive last year, but customers now expect a wider variety of ways for brands to build relationships with them. Temporary store functionality in the Xstore POS solution helps retailers meet these new expectations.
Feature 6: Customer Not Present Payments
With the evolution of various digital payment methods and trends, Oracle Xstore POS now supports various customer/ card not present methods allowing customers to make payments over the phone or by their preferred method as supported by the payment service provider. This could be useful while accepting payment for telephone orders.
Feature 7: Oracle Retail Applications Cloud Services
Cloud service offerings from Oracle take care of all infrastructure-related tasks.
All future upgrades and hotfixes are applied by Oracle and backward compatibility is also maintained.
Better security (including OAuth), faster actions on restorations, backups, maintenance, etc.
Enhancements to the Hierarchy Management Menu for Organization and Merchandise
New Register Count Report is added showing the total number of registers for the entire organization and a breakdown of the number of registers for each store – those with transactions and those without transactions.
Version 23 – Packed with New Features, Including APIs for Same-Day Delivery
Oracle made headlines this past July with the release of V23 which includes APIs to enable same-day delivery with their new partner Uber Direct. As Oracle cites in their September 19 press release (Oracle and Uber Co-innovate to Transform Last Mile Delivery in Retail) according to Edelman Data & Intelligence, "75% of consumers expect express delivery as an option, and 72% are more likely to continue ordering from companies that offer this service." This new feature enables Retailers to compete, and exceed, the convenience offered by Amazon Prime. This exciting new feature does require Collect and Receive (CaR) Cloud Service from Oracle.
Many retailers who are impacted by the labor shortages in a tight market are also looking at technology solutions, and V23 is another tool in that arsenal empowering Oracle's Self-Checkout. The following new features make the Self-Checkout process not only easier but closes the gap with cashier-driven registers:
New receipt printing options including gift receipts for all items in a basket or just select items in the transaction
Ability to add Loyalty award points to tendering
Additional gift card functionality
Audio files that can guide customers through certain pain points in
Self Service functionality is now offered for Mexico, Spain, Portugal, and the United Kingdom
Self -Checkout console for store operations to be able to monitor multiple self check out registers in one easy-to-use tool
Lastly, V23 now includes direct Vertex integration for real-time tax calculations and training mode for thin clients and mobile units.
Additional Benefits
Besides the features outlined, there are several additional benefits of Oracle POS system upgrade:
New updated features to meet country-specific regulations, by using country accelerators
Reduction in maintenance for customizations that may be redundant with new functionality
Improved security and updated 3rd party solutions (i.e. more recent version of Java)
Adoption of new best practices that come with new features
Continuous upgrade to omnichannel strategy includes an option to maintain the 'Customer Failed to Pickup' orders.
Costs
The cost of upgrading is heavily dependent on how much you customized your solution. Oracle Retail does have a streamlined upgrade process available if you have implemented Xstore POS just out of the box functionality. The reality is that most clients have some sort of customization that will require testing before deploying a POS solution.
Risks In Not Upgrading
Every retailer needs to weigh increased functionality against the risk of losing Premier Oracle support and the costs of upgrading and not upgrading. Many of our clients have procurement departments that develop this Cost-Benefit Analysis, but for those that do not, SkillNet is able to provide these additional financial analysis services.
Below is the current Oracle Xstore support sunsetting schedule [source Oracle retail documentation]. Some clients believe this may not be a critical issue, especially if they use SkillNet Support services. However, there is an inherent danger in losing Oracle's premier support in case of a catastrophic event that most Retailers do not want to risk.
| | | |
| --- | --- | --- |
| Version | GA Date | Premier Support Ending |
| Xstore Office and Point of Service 18.0 | December 2018 | December 2023 |
| Xstore Office and Point of Service 19.0 | December 2019 | December 2024 |
| Xstore Office and Point of Service 20.0 | December 2020 | December 2025 |
| Xstore Office and Point of Service 21.0 | January 2021 | January 2027 |
We have been able to upgrade Oracle Xstore POS in as quickly as 4 months, but for some retailers with heavily customized systems, the timeline will probably be longer. One of the major activities that may drive the timeline for a heavily modified system would be system integration testing and user acceptance testing. Both of these activities will require participation from your organization, so it may not be the case that you can throw extra bodies (from a third party) to accelerate these timelines.
Do you need help with your Oracle Retail Xstore POS Upgrade?
SkillNet is an Oracle Retail Solutions and Integration partner. We also support Retailers in their on-prem to cloud journeys. Apart from Oracle Xstore expertise, SkillNet also supports other Oracle Retail Products such as Omnichannel, Merchandising, Planning & Optimization, Supply Chain, Brand Compliance, Insights & Science.
Based on our Oracle Xstore POS expertise, SkillNet has developed a set of IP-based tools we call the Modern Commerce Engine. These tools help retailers accelerate their digital transformation programs and optimize their Oracle Xstore POS solutions
This blog is written by Sachin Shah with special contributions by Ketan Karandikar and Saurabh Pant