Digital Commerce Solutions
Deliver Personalized Digital Experiences At Scale
Talk to an Expert
Reshaping Digital Experiences
The impact of the sudden, massive shift to online transactions might be wearing off, but digital commerce has irrevocably changed. It is no longer just about websites connected to an inventory data store. Now, consumers prefer a personalized experience. Several studies have shown that customers choose to stay loyal to businesses that follow this model.
SkillNet creates modern, headless, composable digital commerce solutions for B2B, B2C, Marketplaces, and other business models. Our solutions enable you to deliver personalized experiences at scale.
Digital Commerce Strategy, Design & Development
Digital Transformation is personalized content, intuitive commerce, and connected customers.
Why Digital Strategy
Increases Revenue
Lower Operational costs
Increased Customer Acquisition, Retention, Satisfaction, Market penetration
Design Fundamentals for a successful Digital Journey
Identify your organizational goals that are objective and measurable
Educate and enable the team
Identify and Define Personas you wish to target
Align Strategy to Technology
Define a sophisticated Content Strategy
Deliver
Identify a Partner
Work as One Team
Work in Sprints
SkillNet with a legacy of 25 years and deep delivery capabilities can partner with you to make your digital transformation a success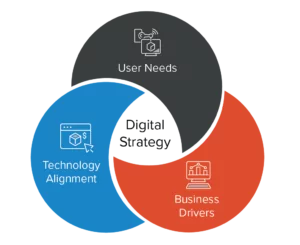 Marketplace Strategy & Deployment
The world of commerce is changing fast. Marketplaces are sophisticated solutions with many variables tied to success. SkillNet's Marketplace Solutions include:
Marketplace consulting: Use our years of practice and success to help navigate the optimal marketplace process and engagement for you.
Implementation optimization: best practice implementations with three variations of speed and feature/functionality set by offerings.
Seller onboarding & optimization: Once you have your marketplace up and running, we help you maximize profits and build a foundation to scalability with our seller onboarding and optimization tools.
To find out how we help Marketplace owners implement full cycle of Marketplace integration with an existing eCommerce site, check out SkillNet's Marketplace Approach.
Click here to read the Komax Marketplace case study.
eCommerce Platform Implementation
SkillNet's multidisciplinary teams provide complete solutions by combining deep functional knowledge of eCommerce applications with top class engineering for DevOps and cloud. We help you choose and implement eCommerce platforms that best support your business roadmap. Our focus is on delivering complete business value to you without any gaps in technical complexity or scope of ownership. We are implementation partners for leading ecommerce platforms such as:
Commercetools
Magento and Others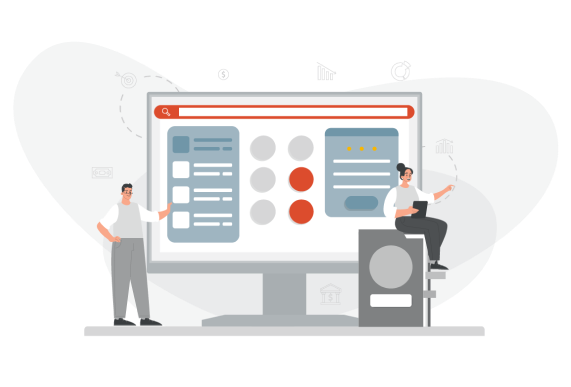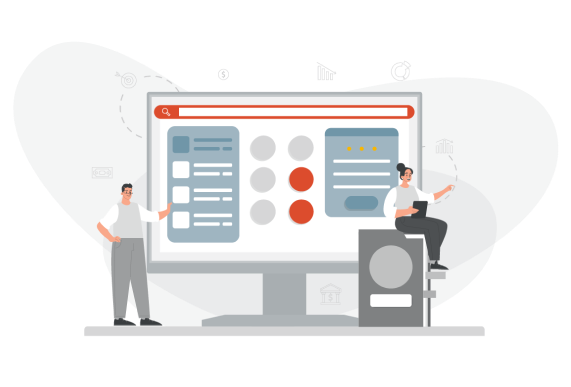 eCommerce Platform Modernization – Adapting To Your eCommerce Goals
Today, organizations have a choice of technical solutions to transform their eCommerce implementations. The challenge is in identifying a solution that not only makes use of the existing investments but also ensures a seamless and personalized customer experience.
Our consultants redesign & implement innovative customer journeys. We can also help you re-architect your eCommerce platform using MACH design tenets. Our digital commerce solutions have helped global enterprises enable unified commerce experiences resulting in increased growth.
Click to learn more about our eCommerce Platform Modernization Solutions
Read the case study on enabling 2x growth for a Midwest retailer.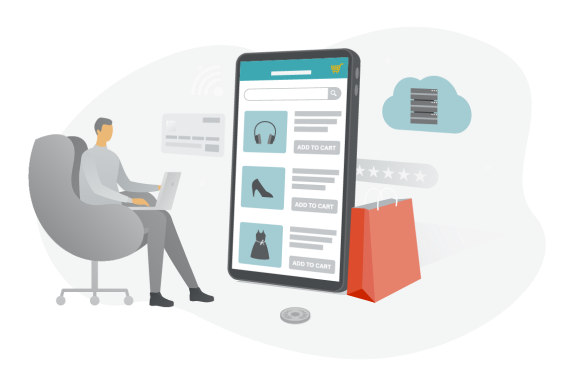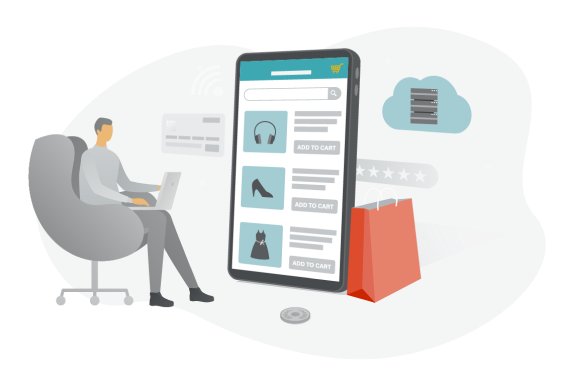 Omnichannel Enablement
Today, providing seamless and consistent experiences in every customer interaction is critical. In order for enterprises to enable true omnichannel capabilities they must leverage individual channel capabilities along with omnichannel processes and customer journeys.
SkillNet provides organizations with capabilities to enable omnichannel processes in the following key areas:
Customer Journey and customer experience mapping
Inventory management and visibility for all channels
Analytics to visualize customer engagement in each channel
Centralized transaction management
Order management and orchestration
Read the blog – What is Omnichannel, it may not be what you think!!
Check out our blog – Are you ready for omnichannel fulfillment?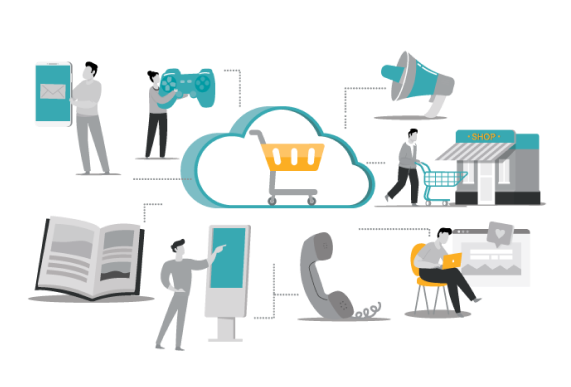 Composable Commerce Strategy & Deployment
SkillNet – Visionary in Headless, Composable Platforms
As B2B and B2C Enterprises continue the drive to deepen customer engagement, an eCommerce channel cannot work in isolation. It has to work collaboratively with various channels like Mobile, IoT devices, instore app, social commerce, conversational commerce, connected car commerce, POS, Kiosk, Near-field communication (NFC) to enable scalable and profitable shopping experiences.
Learn more about our modern, headless, composable digital commerce solutions.
Read the Blog – Composable vs Headless Commerce: What's Best for Your eCommerce Site?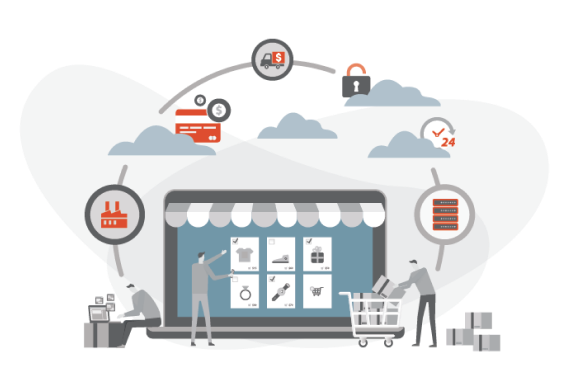 FAQ Section
What types of businesses can benefit from digital commerce solutions?
Digital commerce solutions can benefit B2B, B2C, B2B2C, D2C, online2offline and other business models which are focusing on modern commerce. From small businesses to large corporations, digital commerce solutions can help improve customer reach, increase sales, and streamline operations. E-commerce platforms and digital payment systems are particularly useful for businesses that sell physical or digital products online, while subscription-based businesses can benefit from recurring billing and automated payment processing. Service-based businesses can also use digital commerce solutions to facilitate online bookings and payment processing.
How do digital commerce solutions help businesses  reach more customers?
Digital commerce solutions can help businesses  reach more customers by enabling them to sell products or services online, allowing them  to access a wider audience beyond physical location. They also provide features such as search engine optimization (SEO) and social media integration, which help attract more visitors to websites and increase  brand visibility. 

By adopting a content-based approach, digital commerce sites also enhance customer engagement and facilitate informed purchases. By treating these sites as information hubs, businesses can expand their reach, provide comprehensive details to customers, and ultimately encourage them to visit physical stores for completing their purchases. This approach leads to improved customer satisfaction, minimizes confusion, and empowers customers to make well-informed buying decisions.

Additionally, digital commerce solutions often include tools for email marketing, retargeting, and other types of targeted advertising, which can help  reach potential customers who are interested in the products or services offered by businesses.
How do I choose the right digital commerce solution provider for my business?
To choose the right digital commerce solution provider for your business, consider your specific needs, budget, and long-term goals. The SI should have a "you first" philosophy. Their ability to understand your business model and provide the "best fit" scalable solution matters . Their authority on the domain and understanding of various platforms contributes to the  success of your project. 
The  solution provider should also be able to  provide solutions to enable secure payment processing, inventory management, and customer management. Ensure that the SI designs a  solution that is scalable, customizable, and integrates seamlessly with your existing systems.  They should be able to provide the maximum benefits of the products with minimal customization. Additionally, consider if the services provider can provide 24 x 7 support.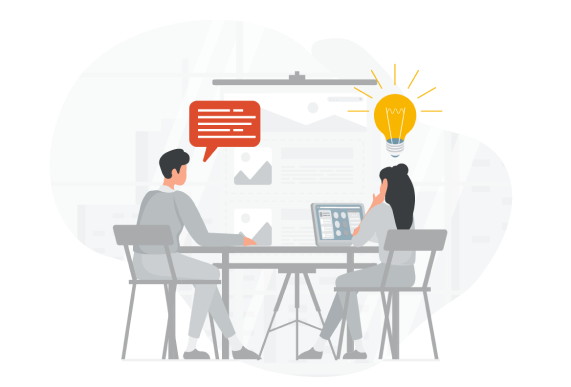 Digital Commerce Systems Support
SkillNet provides 24X7 support services and solutions for enterprise eCommerce programs to help improve business and system performance.
Get In Touch With Us
SkillNet Solutions, Makers of Modern Commerce, provides consulting and technology services to companies that are digitally transforming to modern commerce enterprises.