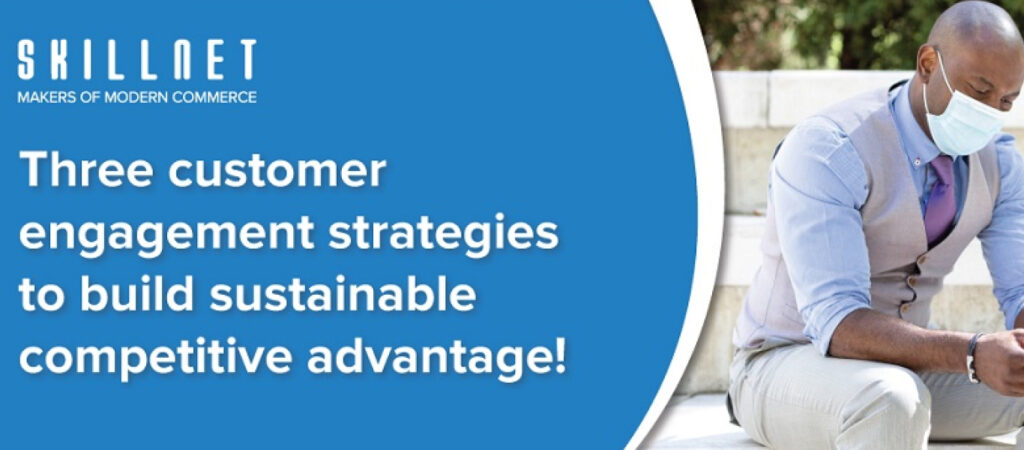 This is the third of a series of four-blogs (Read Blog 1 and Blog 2) from SkillNet on how Modern Commerce Leaders are adapting to the New Normal.  SkillNet defines a Modern Commerce Leader as a retail brand that is engaging customers through new retail customer journeys enabled by Technology. The flexibility and ability to adapt, provides these companies with a competitive advantage.  
Retailers are using retail customer engagement not only to weather the current economic uncertainty but also to build a sustainable competitive advantage. As we surveyed retailers, both essential and non-essential, we are seeing three trends on how Customer Engagement leaders are investing their dollars strategically:
Building or enhancing existing mobile applications from a transactional to a relationship building platform
Investing in offers and programs to build customer loyalty
Offering additional fulfillment options that not only promote safety, but convenience
When it comes to the first trend, there are countless examples of Retailers investing in their mobile apps. When mobile apps first arrived, they were often just designed as extensions to the company's website, but now mobile apps have their own distinct customer journeys. An example is Avocado Mattresses which offers scheduled visual chat sessions with store team members, mimicking the in-store shopping experience from the comfort of your mobile phone.
On a recent webinar I hosted, Scott Steever, Adjunct Professor at Fashion Institute of Technology, shared his story of how his local Fairway grocery store in Brooklyn quickly turned on functionality that allowed him to have a complete contactless grocery shopping experience in-store with his app: self-scan, self-checkout, and Apple Pay all through his phone. He noted, "I don't know whether they were working on that ahead of time or they just really pivoted quickly, but in any case, it really made a difference in terms of the experience of shopping with Fairway. It greatly reduced the anxiety for me as a consumer during the early days of the pandemic in New York City."
Loyalty programs have been around for years, but recent trends show retailers are looking for innovative ways to reward their customers. According to a 2020 Marketing Week survey, 29% of brands are re-budgeting marketing dollars to fund initiatives to maintain customer loyalty. This trend is evident in mobile application integrations to existing Customer Relationship Management (CRM) packages to tailor discounts and recommend complimentary products based on previous purchase history. Other brands such as Levi's are offering a special concert series for their top customers while Sephora is offering special private beauty events.
The third trend we are seeing in engagement is providing customers with additional ways to acquire a Brand's products. Obvious additions to fulfillment options have been curbside or drive-up pick up. On a recent trip to Target after placing an order using their app and requesting drive-up pick up, I timed how long I had to wait before the team member came out with my order: 33 seconds, and this was during a snowstorm! In Q3, Target reported that 75% of digital orders were fulfilled from their stores. This helped them reach some remarkable sales increases (19% same store sales), while starting the quarter with 3 % less inventory.
Another example of fulfillment innovation is seeing brands partnering with each other. Even before the Pandemic, Kohl's was offering Amazon lockers and in person return services. Another interesting example has been a test where select Walgreens' stores are offering Kroger grocery drive-up pick-up services.
Even when we return to pre-pandemic behavior, we believe these retail customer journey enhancements will continue to be adopted because of the convenience and safety they provide to the community and the improved profitability that these journeys realize for Modern Commerce leaders.
Watch the Webinar on customer engagement – Real Engagement is the new normal