The IT landscape of retail enterprises is made up of a network of interdependent systems – internal legacy applications, modern COTS implementations and interfaces to external applications like payment gateways, merchandizing, and supply chain systems. Various infrastructure elements that are essential to the retail industry – POS devices, Bar Code Scanners, Card Readers – to name just three, add to the complexity. The CIO is responsible for ensuring that these diverse systems perfectly work in-synch with each other. With ever increasing requirements to provide customers with better experience, real time store monitoring becomes a critical necessity. Orchestration of these systems to provide consolidated retail monitoring solutions, becomes extremely challenging.
Orchestration begins with monitoring. With so many disparate systems, retail enterprises have had no option but to use multiple retail monitoring systems, each necessitated by the choice made at the time of acquiring or upgrading these systems. These diverse monitoring for retail systems provide information that gets isolated into islands. Worse, different retail monitoring systems give rise to different versions of the truth and provide conflicting data that could lead to poor operational decisions.
In such situations, the need for a retail monitoring solution that can consolidate all these islands of information onto a single dashboard becomes critical. The solution will help present information that reflects operational status in an accurate manner. Further, such a solution can also forecast peak load periods, based on seasonality, time of day, and day of week or month.
Traditional retail monitoring solutions lack features that are essential for the retail enterprise. Some of these are critical for ensuring consistent customer experience, such as:
Retail Applications Connectivity Monitoring
Retail Devices Monitoring
Retail POS Monitoring
Other features, lacking in many of the traditional solutions, are needed to ensure better orchestration across the IT Landscape:
Views customized to Retail Operations Monitoring Needs
Consolidated notifications
Multi-Site Scalability
Additionally, in the absence of a consolidated monitoring solution to implement Business level SLA's, traditional monitoring solutions will need significant re-configuration.
A case in point is a retailer, who had over 90% of their tickets in the overdue state, which obviously meant they were unable to meet SLAs. Only 15% of the tickets were resolved in under a day, while nearly 20% took up to a whopping 10 days! A consolidated monitoring solution helped this retailer to zero in on issues impacting these SLA's as well as understand the impact these issues were having on the business. Having helped similar retail enterprises in over 53 countries increase their margins by $10 Billon, consultants at SkillNet Solutions created RetMon, a consolidated monitoring solution. Unlike expensive proprietary solutions involving heavy license fees, retail monitoring solution is based on Open-Source Monitoring applications. An active community helps keep these applications up to date, avoiding technical debt.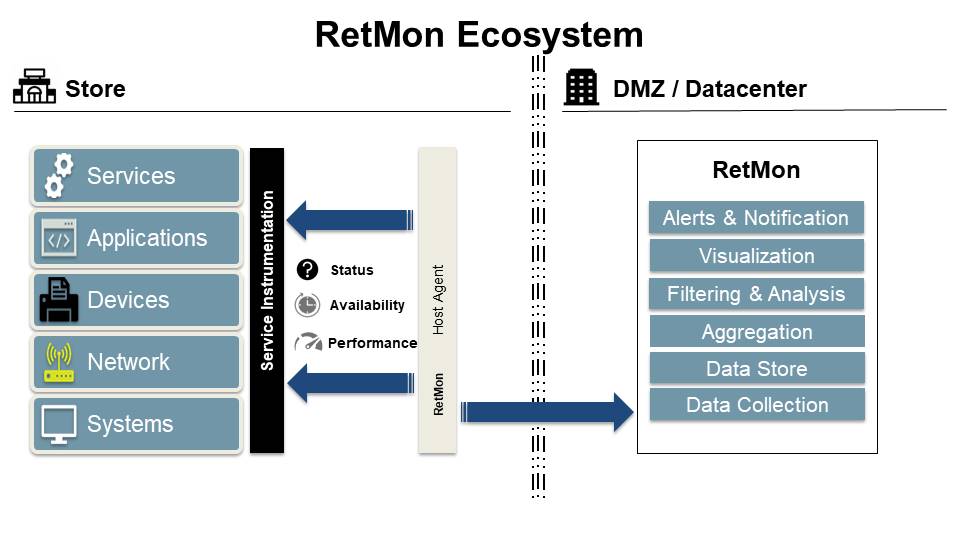 RetMon solution for monitoring retail enterprises help them understand, plan and mitigate issues relating to capacity and growth requirements. It also helps identify inventory, sales, operational and business needs.
With RetMon, you can anticipate the following benefits over traditional monitoring solutions:
Digital Transformation – RetMon adoption can help Retail Enterprises gain end-to-end visibility into infrastructure and applications.
Faster Detection of Issues – Active monitoring detects issues in real-time and significantly reduces manual intervention needed to connect the issue with the business process.
Faster Resolution – Real time issue detection reduces any guess work in triaging issues, and effectively reduces Mean Time to Resolution.
Reduced Call Volume – Issues are automatically reported, and this enables proactive closure. It reduces the need for store staff calling the Help desk.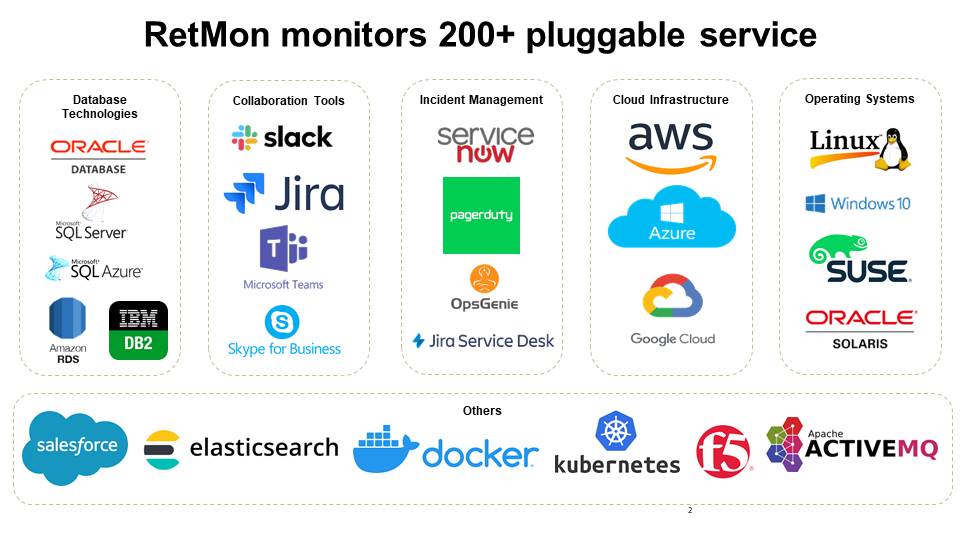 Conclusion
In the retail enterprise, consolidated monitoring needs are best met by adopting an integrated monitoring solution capable of scaling to meet increasing transaction volumes and custom requirements.
RetMon has far more to offer than what has been discussed so far. But that is another blog! Contact us today, if you are looking for a monitoring solution that can consolidate islands of information onto a single dashboard.
All trademarks and IPs are the properties of their respective owners.