2020 will go down in the history of eCommerce as groundbreaking. Both, B2B and B2C eCommerce received a major shot in the arm as businesses went into digital overdrive. A United Nations Conference on Trade and Development (UNCTAD) study released earlier this year noted that the share of global retail eCommerce alone went up from 14% in 2019 to about 17% in 2020. The report says that the growth in eCommerce seen in 2020 is likely to be sustained during recovery. Independent forecasts for global retail eCommerce show that sales will increase from US$4,891 billion in 2021 to US$6,388 billion in 2024. A flush of funding for eCommerce is on the way, making choosing the right eCommerce platform more important than ever before.
Fortunately, the eCommerce industry has matured over the last decade, giving way to an explosion in omnichannel experiences solutions. While actual estimates vary, there are over 240 eCommerce platforms to pick from. Having a plethora of choices is good. They provide feature sets and price-point flexibility that businesses need. However, as even the most experienced CTOs know, the options can quickly become overwhelming. How does a retailer make the right choice?
Omnichannel customer experiences and Master data management software solutions
The perfect choice of a platform will depend on the needs of a business and the path of evolution it chooses. However, the B2B eCommerce solution platform must make it possible to customize even the most basic features, such as customer account management, product catalogs, shopping cart, pricing, quote management and order replenishment (for B2B), offers to specific customer groups, check out, payments and returns/ logistics and inventory management. These systems should be integrated with suppliers and partners, procurement and inventory management, approval workflows, social media and CRM, etc.
Our experience with retailers shows that today's omnichannel retail solutions must go beyond the basic platform features. To have truly powerful eCommerce capabilities it is necessary to remember the key features that go into a flexible and extensible B2B and B2C solution. Your long-term strategy must address:
Support for an omnichannel strategy and
Backing provided by an easy-to-use master data management (MDM) system
These provide the retailers the means to anticipate and respond to changing customer behavior across channels, without losing focus of customer convenience.
The convenience offered by a retailer plays a dominant role in determining customer loyalty. And convenience has become largely dependent on an omnichannel approach. Shopping today is no longer limited to a single desktop website. Technology adoption by end-users has brought a variety of devices, networks and platforms into play, making omnichannel retail a reality. In the emerging environment, delivering an omnichannel shopping experience (desktop, mobile, POS — see Figure 1) and personalized retailing will dictate the selection of an omnichannel retail solution.
Figure 1: Omnichannel Retail Shopping Experience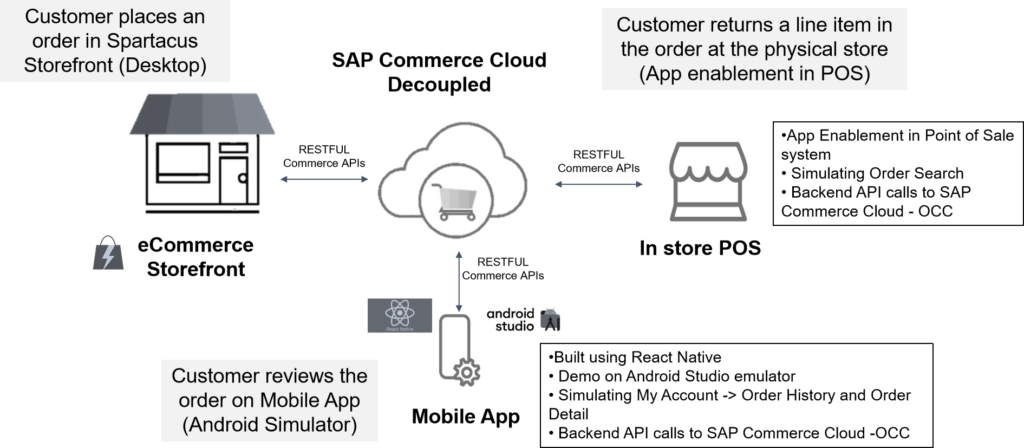 Master Data Management – MDM plays an important part in the success of an omnichannel retail solutions eCommerce strategy. Retailers must bring unrelenting attention to master data management software. With the right MDM, retailers can seamlessly service customers across channels, while creating offers and promotions specific to a channel. For example, a customer who orders a shirt using a mobile app can easily return it, if required, by visiting the nearest store without being told that "Online purchases can only be returned using the app." Or a customer trying to buy a smartphone at a store will not see a lower promotional price for the same model at the store's eCommerce website.
Poor data management leads to confusion between channels and affects the retailer's reputation. Often, inconsistent data and conflicting content across channels can make customers resentful. They may even suspect they are being cheated. On the business side, poor data management can result in low ROI on marketing investments. It can affect the ability to cross-sell and up-sell; lead to customer churn and result in regulatory penalties. These risks can be circumvented by putting appropriate MDM in place.
When all business functions and channels refer to the same source of truth—the master data—customers are assured of a seamless, highly personalized and trustworthy experience.
Impact of successful omnichannel retail solutions
Creating the right omnichannel strategy can have dramatic results. In one instance, an auto parts retailer in the US with 45 large format stores could not provide a consistent online experience to customers for the availability of auto parts and tires when scheduling servicing. Besides, the retailer's site could not combine the process of tire purchase and other item purchases.
The omnichannel retail solution implemented by SkillNet included a robust enterprise level MDM strategy, which included merging Data and Processes across all three channels, viz. Mobile App, POS app and web application. This strategy for omnichannel sales enabled a 2X growth in online sales.
A strategy that pays off when designing eCommerce solutions is using a headless eCommerce design pattern. The headless pattern, in sharp contrast to the monolithic approach, decouples the front and back ends of the eCommerce application. This allows retailers the agility to quickly and easily roll out new functionalities to address changing customer needs across touchpoints (channels). SAP Commerce Cloud, as an example, allows retailers to leverage headless eCommerce (see Figure 1 & 2 for details).
Figure 2: SAP Commerce Cloud | Strategic direction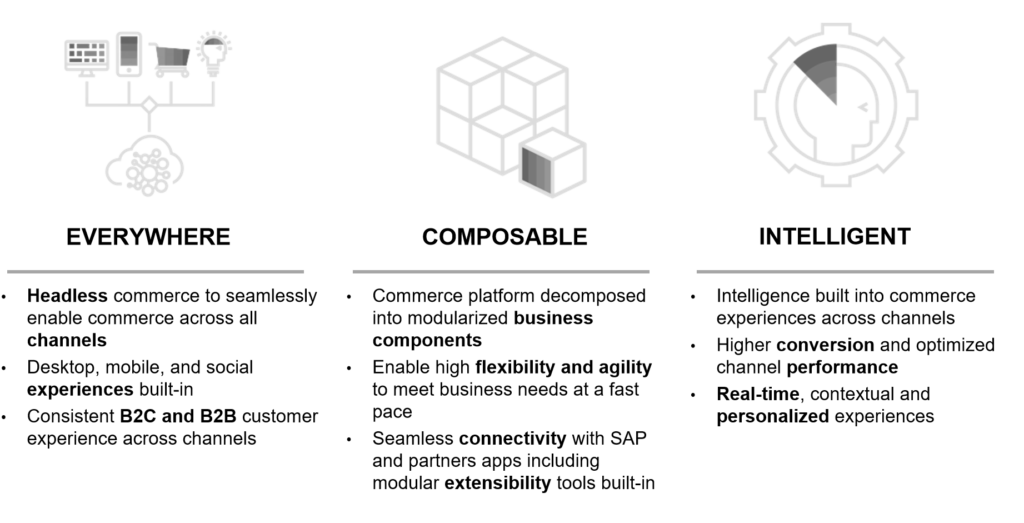 The impact of a headless design pattern on customer experience across the growing number of channels can be significant. It is one of the leading technologies driving retail innovation.
The upside of omnichannel retail has been known for almost half a decade. A study published in 2017 found that an omnichannel approach ensures that customers spend 4% more on every store visit and 10% more online than single-channel customers. The study found that with every additional channel used, there was a parallel increase in spend. For example, customers who used 4+ channels, on average, spent 9% more in-store than users of a single channel. This trend will be amplified as Zoomers (Gen Z consumers), who value brands for the seamless experience they provide, become the single-largest customer segment. The key to staying ahead of this trend is, without doubt, looking beyond feature sets and addressing MDM across channels in enterprise.
All product names and trademarks are property of their respective owners.