Are you planning to upgrade your eCommerce platform? Choosing the right partner for your replatforming program is crucial for success. But with so many options available, how do you know which partner is the right one?
In this blog, we will explore the challenges of replatforming and how the right partner can help in each step, the key factors to be considered while selecting a partner and finally the benefits of working with a partner. From understanding business needs to delivering a seamless transition, a trusted partner can make all the difference between success and failure.
The Challenges of eCommerce Replatforming
Replatforming can be a complex and challenging endeavor for businesses looking to upgrade or migrate their online stores to a new platform. Here are some of the key challenges associated with this process:
Vendor Selection
Cost and Budgeting
Design and User Experience
Integration Complexity
Customization and Feature Parity
Downtime and Disruptions
SEO Impact
Data Migration
Testing and Quality Assurance
Employee Training
Stakeholder Alignment
Project Management
Need help with eCommerce Replatforming?
Addressing these challenges requires careful planning, and execution to ensure a smooth transition without disrupting your business operations.
Ensuring The Success Of Your ECommerce Replatforming
To ensure a successful eCommerce replatforming project you should:
1. Assess your current platform and needs: This is one of the most important steps in the replatforming process. You need to identify pain points, opportunities for improvement, and align your platform with your business objectives. A partner can be instrumental in assessing your current eCommerce platform and needs. They can conduct a comprehensive evaluation of your platform, provide expert insights, and recommend tailored solutions, ensuring that your eCommerce strategy is optimized for success. With an expert, you gain access to valuable expertise, allowing you to make informed decisions, streamline your operations, and make the most out of your eCommerce investment.
2. Research eCommerce platforms: There are many different eCommerce platforms available, so it's critical to do a thorough research and find the right one. One has to conduct a detailed analysis of available platforms, comparing features, scalability, and customization options, and create recommendations tailored to your unique requirements. A partner can significantly aid in researching and selecting the ideal eCommerce platform for your business. They bring industry knowledge and insights into the selection process, helping you assess your specific needs, budget constraints, and growth aspirations. By leveraging their expertise, you can streamline the platform selection process and lay the foundation for a successful transition to newer eCommerce platform.
3. Platform Selection: Selecting the right platform can be a game-changer when it comes to eCommerce replatforming. You have to navigate the complex landscape of platform options effectively and ensure that the chosen platform aligns perfectly with your business goals. Platform selection also involves vendor evaluations, contract negotiations, and the migration process. It involves streamlining the entire replatforming journey to increase the likelihood of a successful transition to a more efficient and effective eCommerce solution.
Apart from industry expertise, a partner brings a deep understanding of various platforms. They can create a tailored approach for you by assessing your current eCommerce ecosystem, identifying pain points, and defining specific objectives. By leveraging their insights, you can navigate the complex landscape of platform options more effectively.
4. Implementing Selected platform for unique needs: After selecting the right platform, next comes the implementation. Companies have to plan for scalability, integration with necessary systems, and bolster security, while also prioritizing an excellent user experience. A partner's expertise can accelerate the process, ensuring a customized solution that aligns with your unique business needs and provides technical support when issues arise. You can focus on ensuring that your online presence flourishes by meeting both current demands and future growth requirements.
5. Seamless Data Migration and Integration: Another important aspect of eCommerce replatforming is achieving seamless data migration from legacy to new platform and building/reusing integrations. One needs a deep understanding of data structures and the intricacies of the chosen eCommerce platform, to ensure that data from existing systems can be migrated without loss or corruption. Moreover, you have to efficiently integrate your eCommerce platform with other essential systems, such as inventory management or customer relationship management, streamline operations and improve data flow. A partner's expertise in both migration and integration processes will save time, reduce the risk of errors, and enhance the overall performance of your eCommerce solution.
6. Test the new platform: Once data has been migrated, it's important to test the new platform thoroughly. It's important to make all of the features are working properly and that there are no bugs. Testing should also include testing for functionality, performance, and compatibility with different devices and browsers. Beta testers can help try out the platform before its launched it to the public.
7. Launching the new platform: Once the testing is complete, it's time to launch the new platform. Your partner can work with you to ensure seamless integrations, prioritize security, and have a well-defined go-live plan. Continuous monitoring and post-launch evaluation are crucial for long-term success and customer satisfaction.
8. Training and documentation: Provide training to the team on how to use the new platform effectively. This will ensure a smooth transition and minimize any disruption to business operations.
9. Monitoring and maintaining the platform: Once the new platform is up and running, it requires ongoing support and maintenance to keep your online store running smoothly. A partner can provide you post-migration support, ensuring any issues or bugs are promptly addressed. They should provide maintenance services to keep your platform up to date with security patches, platform updates, and new feature implementations.
Key Factors To Consider When Selecting A Partner
When selecting a partner for your eCommerce replatforming project, there are several key factors to consider: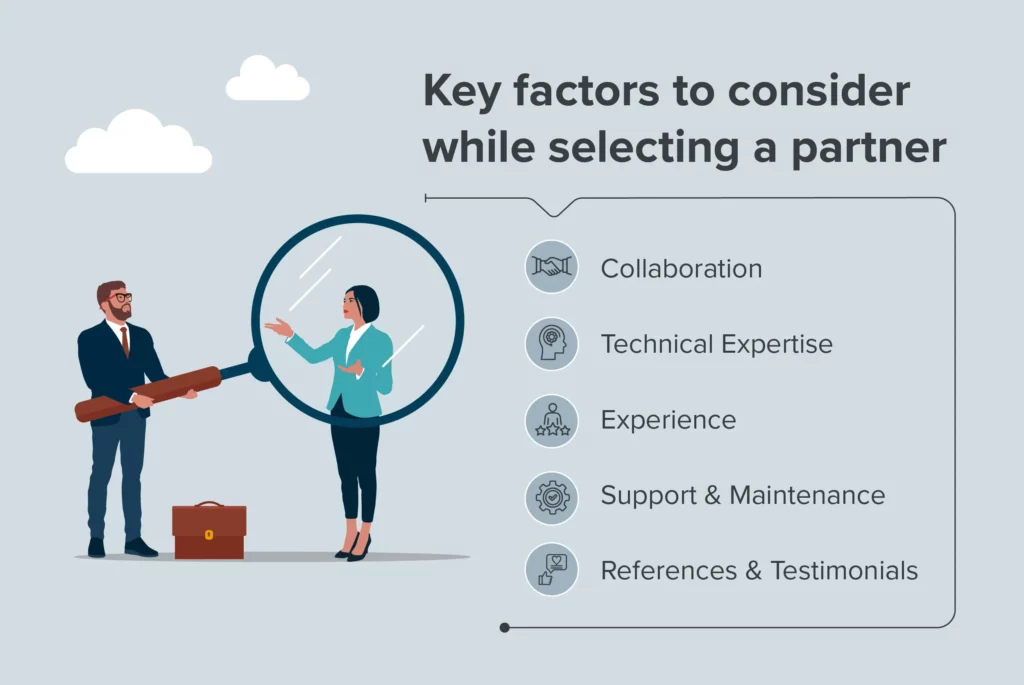 Collaboration: A consultative partner will work closely with the team, involving them in the decision-making process. They should be responsive to your needs and provide regular updates on the progress of the project.
Technical Expertise: Ensure that the partner has the technical skills and knowledge of several platforms to help analyze various options before the selection process. They also need to have the expertise required to handle the specific platform you are considering. They should have a deep understanding of the platform's capabilities and be able to customize it to meet your unique requirements.
Experience: Look for a partner with a proven track record of successful replatforming projects. Experience is crucial as it indicates that they have the knowledge and expertise to handle the complexities involved.
Support and maintenance: Ensure that the partner provides ongoing support and maintenance after the launch. This includes regular updates, bug fixes, and technical assistance when needed.
References and testimonials: Ask for references and testimonials from previous clients. This will give you an idea of their reputation and the level of satisfaction their clients have experienced.
Conclusion
Replatforming an eCommerce platform is a critical decision that can have a significant impact on the success of business. By considering key factors, asking the right questions, and evaluating potential partners, organizations can make an informed decision that sets the stage for a successful replatforming journey.