Improving Your Retail Payment Experience with SkillNet
At SkillNet, we are experts in the realm of Payment Integration for Brick-and-Mortar stores, offering a comprehensive array of capabilities and deep expertise to enhance the payment journey for both retailers and customers. Here's an overview of our payment capabilities
Global Payment Competence
Our experience extends across multiple regions, encompassing North America, EMEA (Europe, Middle East, and Africa), Mexico, Australia, and New Zealand. We are well-prepared to cater to the unique requirements of retailers operating in these diverse regions.
Oracle Payment Interface (OPI)
OPI serves as a pivotal payment card-processing interface that allows payment service providers to deliver payment processing capabilities to Oracle Retail, Oracle Hospitality, and Oracle Food & Beverage POS Systems. SkillNet has joined forces with leading payment providers to ensure their payment solutions seamlessly align with Oracle's EFTLink OPI core, guaranteeing a hassle-free experience for retailers opting for Oracle's EFTLink.
Specialized In-store Payment Expertise
We have a specialized team dedicated to deliver in-store payment solutions. This commitment ensures that retailers are able to ensure that customers have smooth payment experiences.
Oracle EFTLink Expertise
We specialize in integrating payment solutions using pre-built and certified cores through Oracle's Payment Middleware solution, EFTLink. Additionally, we possess the capability to craft custom cores for EFTLink, tailored to fulfill each retailer's specific payment requirements.
Seamlessly Integrated POS Systems
Our extensive experience includes seamless integration with a variety of Point of Sale (POS) systems such as Xstore, ORPOS, GKPOS, and Retek POS (RPOS), providing retailers the freedom to select the platform that best aligns with their needs.
Adherence to Strict Compliance
SkillNet takes its commitment to compliance with Payment and Healthcare industry regulations seriously. We strictly adhere to PCI standards to safeguard the integrity of payment card data through robust data security measures. Our unwavering adherence to HIPAA regulations underscores our dedication to protecting sensitive healthcare data, aligning with the highest standards of the healthcare sector.
Streamlined Integrations with Leading Payment Providers
For retailers seeking direct integrations, we offer accelerators designed for a range of prominent payment providers, including Adyen, ACI, AJB Fipay, Aurus, Acceo/Tender Retail, Tempus Technologies, Shift 4, and Verifone. These accelerators expedite the integration process with Xstore, making payment integration smoother and faster.
Watch our on-demand webinar – To discover how retailers can deliver total payment flexibility to their customers without creating chaos behind the scenes
Trusted by Top Brands
Our clients include prestigious brands like Lululemon, Estee Lauder, Burberry, JCrew, Aritzia, Brooks Brothers, and leading healthcare providers such as Kaiser. These partnerships exemplify our ability to deliver top-tier payment solutions to a wide spectrum of retailers.
With our comprehensive suite of in-store payment capabilities, global outreach, and strong alliances with major payment providers, we are exceptionally equipped to assist retailers in optimizing their payment processes and providing a seamless, secure checkout experience for their valued customers. Choose SkillNet for unmatched payment integration expertise.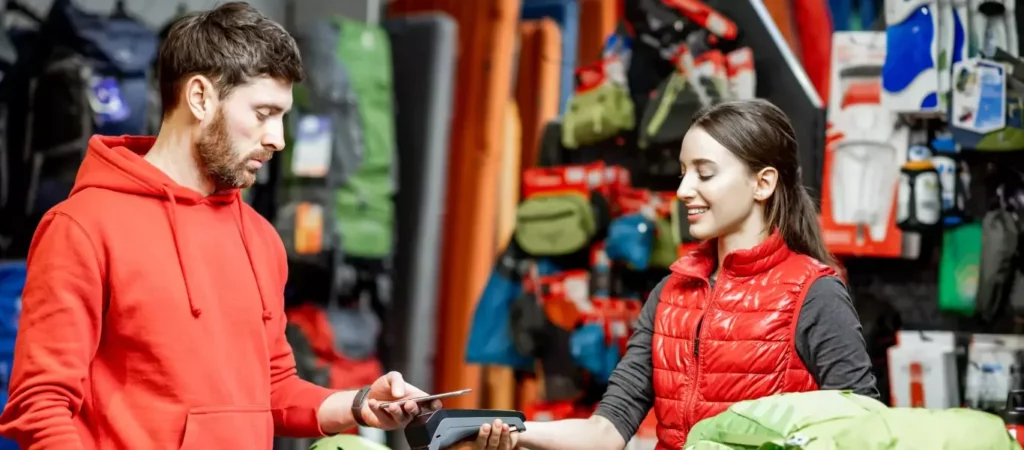 Sports Retailer partners with SkillNet to launch loyalty program
Client wanted to expand their program to enable more rewards and an elite level of access to exclusive promotions, events, and discounts for their devoted customer base.
SkillNet designed a solution to implement a new loyalty program across their existing retail applications, Oracle Retail Customer Engagement and Xstore POS payment system.
CEO

A Global Retailer

We needed an experienced global partner with proven international technical expertise to implement and integrate our new store and e-commerce technologies. SkillNet's experience as a leader in international Xstore implementations and omnichannel transformations made them a winning choice as the implementation partner for the national expansion of our enterprise.
Get In Touch With Us
SkillNet Solutions, Makers of Modern Commerce, provides consulting and technology services to companies that are digitally transforming to modern commerce enterprises.