Campbell, California and Appleton, Wisconsin, June 22, 2021
The mobile app offers customers an easy, individualized shopping experience while delivering value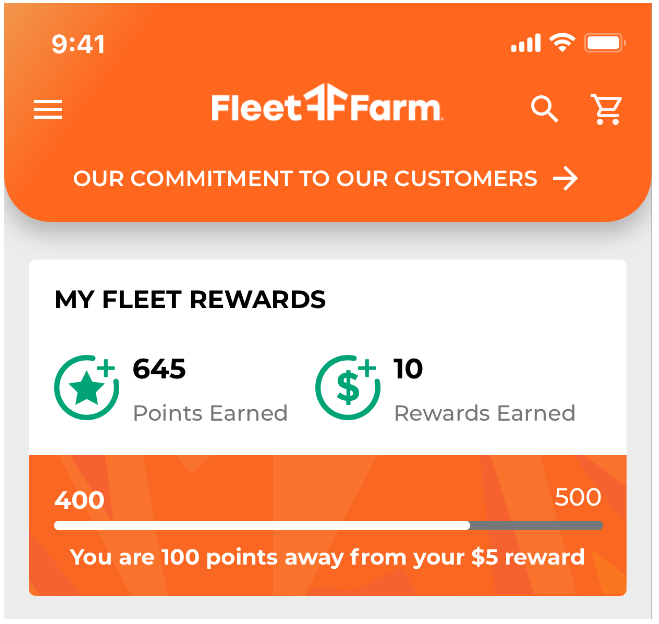 SkillNet Solutions Inc., Makers of Modern Commerce and global leader in digital transformation, partnered with Fleet Farm, a leading Midwest retailer, to design and develop the new Fleet Farm mobile app.
Fleet Farm was looking to create a unique mobile platform to improve the quality of remote and in-store shopping engagement with customers. They chose SkillNet to jointly design and create a solution that provides seamless, holistic experiences to customers.
SkillNet developed a mobile app which not only replicates customers' in-store value experiences, but also enhances their shopping interactions across the entire customer journey. The app which is fully integrated with FleetFarm.com enables customers to search and shop for thousands of products. It allows full engagement with Fleet Farm's newly launched Fleet Rewards loyalty program, including special in-app only bonuses and features. The app's shopping list feature helps customers to plan trips to the Fleet Farm store. If safety is a concern, it allows customers to skip their trip inside the store by selecting the "Outside Yard Pickup" option at checkout.
The app has been very well received by customers and has created a new revenue stream for Fleet Farm. Its adoption has been steadily increasing since launch.
"We appreciate SkillNet's dedication and omnichannel expertise in creating a compelling experience for our customers. They understand who we are and constantly work to achieve common goals for our customers." said Gary Konitzer, IT Director at Fleet Farm. "The new mobile app helps us directly connect with customers and provide better services. We are already seeing the impact of the increased engagement."
"We are thrilled to support Fleet Farm in their drive to support their customer's changing needs". said Anurag Mehta, CEO, SkillNet Solutions Inc. "Our long-standing partnership is based on shared values of focusing on superior customer experiences. By combining our commerce domain expertise with application design and engineering capabilities, we were able to help Fleet Farm create a superior mobile experience for their customers."
Sobre SkillNet
SkillNet Solutions, Makers of Modern Commerce provide consulting and technology services to companies that are digitally transforming their retail business to modern commerce. Located in Campbell, CA, our services enable clients to rapidly anticipate and respond to changing consumer behavior. Since 1996, we have partnered with hundreds of retailers across 53 countries to enable rich customer experiences leading to solid growth. Our award-winning solutions have also enabled global brands in traditional retail, CPG, automotive, apparel, liquor, healthcare, hospitality, telecom and F&B industries to become more agile and efficient in harnessing technology. Visit us at https://www.skillnetinc.com.
About Fleet Farm
Fleet Farm has served hardworking families since 1955, offering a unique mix of high-quality, value-priced merchandise and services for active, outdoor, suburban and farm communities. Customers can find fishing, hunting and outdoor products, auto parts, farm and pet supplies, home improvement and household goods, clothing and footwear, toys and food, plus services like gas, car wash and auto repair. Fleet Farm has 47 stores located across the Midwest. The company's headquarters is in Appleton, Wisconsin. For more information, visit www.FleetFarm.com.
Contact
SkillNet Solutions Inc.
Neeta Shetty
Neeta.shetty@skillnetinc.com
Read this Press release on PRWeb.