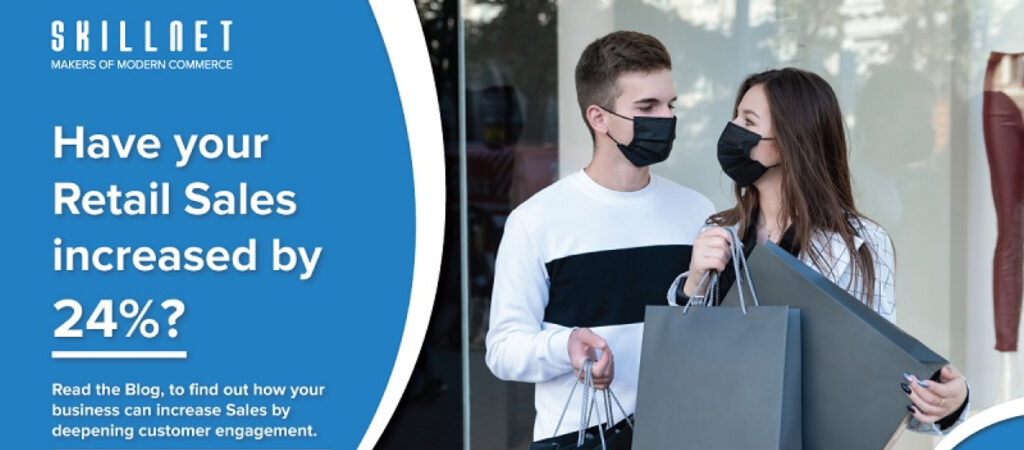 This is the first of a series of 4-blogs (Read Blog 2, Blog 3, Blog 4) from SkillNet on how Modern Commerce Leaders have used technology to digitally transform their retail businesses to adapt to the New Normal. This ability to adapt, gives these brands a competitive advantage. While the blogs are connected each of them can be read independently.
Up through the Fall of 2020, the economy looked like it was approaching a "New Normal" of economic activity. However, pessimism based on poor holiday sales and political unrest has countered the optimism coming from new stimulus spending and vaccines. Uncertainty continues to be the defining term for 2021. In this blog, we will discuss where we are on the path to the New Normal, and how retailers can support customers changes in behavior.
First question we all have is "Has the bleeding stopped?" According to TrackRecovery.org, consumer spending in week ending January 17, 2021, was up 6.5% over same time period in 2020. Driven by $600 stimulus checks, retail spending was up 25%. Consumers have dramatically shifted spending from Entertainment, Travel, and Restaurants to Essential Retail and eCommerce while improving overall retail spending.
Consumer Spending up 6%; retail spending up 24.5%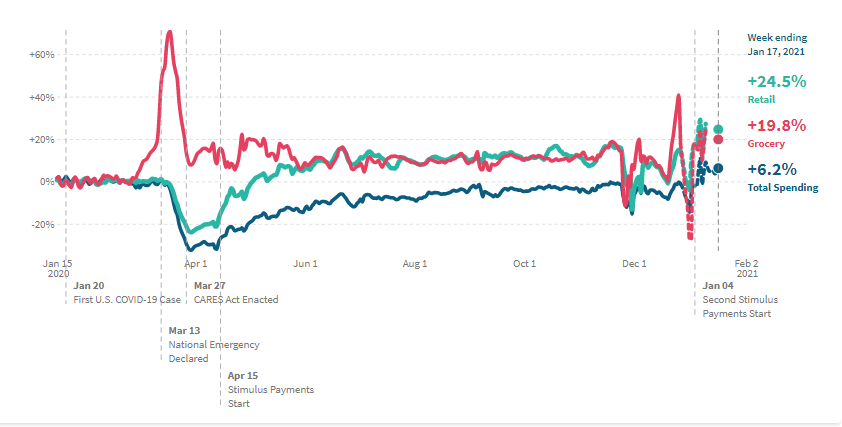 Source: TrackRecovery.org
Given this situation, if your business is not seeing a rebound in Sales, you may have a problem, in that your customer may have made a long-term behavioral change. These retail consumer spending patterns can be as simple as your customer still buying your product but just not coming into the store (reducing add-on sales), to your customer finding more convenient options from your competitors. Kroger reported in their 2020 Q2 earnings call that they estimate 50% of their new digital customers are coming from their competitors.
With this consumer behavioral change, not only does a business have to worry about competitors, but also whether they have lost the traditional add-on opportunities in the urgency of making the retail consumer shopping experience safer. When adding functionality online, retailers may have neglected to identify opportunities to replace the incremental sales normally associated with in store traffic. Traditional merchandising and pricing techniques, which offers add-on sales opportunities, just may not work if the customer is not walking your aisles, end caps, shelves, tables, four ways, or seeing your accompanying promotional signage.
I was recently on a call with a Midwest Essentials Retail client, and one of the initiatives they have undertaken to address this uncertainty, is to partner with SkillNet to improve customers mobile shopping experience and to offer additional customer engagement functionality that not only mimics in-store experience, but in many circumstances enhances on it. This functionality includes additional fulfillment options, appointment scheduling, loyalty program, inventory availability, personalized marketing and an enhanced consumer shopping experience.
What will help retailers regain lost sales is identify what has changed in their customer's journey. One of the ways to identify this is through financial modeling by analyzing traffic and average order values, by channel, pre-2020 and post-2021. Using technology to bridge the gap and to enhance customer experience will go a long way in deepening customer engagements and help getting the dollars back while enabling growth.
Watch the Webinar on customer engagement – Real Engagement is the new normal