As offline and online shopping continue to evolve, retailers who are not adapting to changes in consumer shopping behavior are rapidly falling behind.
60% of consumers (#1) have used Buy Online, Pick Up in Store (BOPIS). Nearly as many have used ROPIS (Reserve Online, Pick up in Store) and Buy Online, Ship to Store (BOSS) for order fulfillment. Buy Online, Return in Store (BORIS) has become a significant win for retailers. Nearly half of consumers say they are more likely to buy online (#2) if they can return items in-store.
Offering consumers multiple ways to buy and pick up purchases is essential to compete in today's omnichannel environment.
Benefits of Omnichannel Fulfillment
Research shows that omnichannel strategies produce an 80% increase in incremental store visits (#3). However, the benefits go well beyond that, including:
Improved customer experience, allowing customers to shop how they want and use the most convenient methods for receiving products.
Reducing fulfillment costs, leveraging multiple channels to optimize supply chains, and reducing costs from shipping and handling.
Enhanced inventory management to reduce the likelihood of overstocking or understocking items
Major retailers such as Target, Best Buy, and Walmart are using excess store space or space within underperforming units to fulfill eCommerce orders, reducing the need for warehouse space.
Nearly 95% of Target's digital orders are now fulfilled (#4) at the store level. Macy's move to transforming stores into mini-distribution centers (DCs) is adding about a million square feet (#5) of the supply chain that the company didn't have previously — without having to lease or build new DCs or staff warehouses.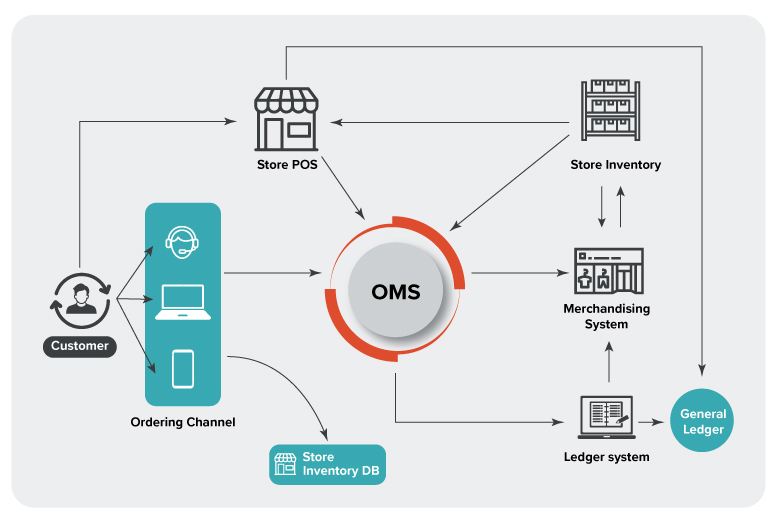 Challenges of Omnichannel Fulfillment
Retailers moving to an omnichannel fulfillment strategy will need to work with an order management system (OMS) built for omnichannel fulfillment. The right OMS can evolve your systems and process by providing a seamless experience to overcome these five challenges:
1. Inventory Management
Retailers need comprehensive inventory visibility across every sales channel, tying in-store and online resources together into a single solution. Many retailers have struggled to maintain accurate inventory across multiple channels. When you are also expanding your fulfillment footprint, accurate inventory is essential.
2. Packages Per Order
One of the big advantages of omnichannel fulfillment is leveraging inventory that is closest to the customer, whether it's in-store pickup or shipping from stores. Since inventory may be in different locations, it can create multiple shipments to fulfill the same order, driving up shipping and packaging costs.
3. Ensuring customers have the same experience across channels
Customers expect to have seamless experience across digital and brick and mortar experiences. Typically, one thinks of this seamless experience in terms of fulfillment, but what is often overlooked are pricing and promotions. When pricing and customized promotions are not in synch, customers can become confused and, potentially, disappointed. There is nothing more frustrating for a customer then the realization they could have saved money and time if they had placed their order online, rather than going to a store.
Other components of seamless customer experiences include loyalty programs, smart phone apps, customized product bundles, personalized shopping events (i.e. in store VIP events for top ecommerce customers), and returns/exchanges which are covered below.
4. Minimizing Impact on Employees
Shifting work from distribution centers to store fulfillment creates an additional workload for store employees. This requires a change in the business process and providing employees with the tech tools they need to make the process easier.
5. Managing Returns
One of the biggest challenges for eCommerce sellers is managing returns. It's expensive and labor-intensive. Providing in-store return options for customers can not only attract customers, but turn returns into profits. 80% of consumers who return products in-store spend their refund on the same visit.
However, it takes a robust and reliable OMS to manage returns and reverse logistics efficiently.
Are You Ready for Omnichannel Fulfillment?
Optimizing omnichannel fulfillment requires a rethinking of the retail tech stack to create a seamless experience for shoppers without overburdening sales associates. Given that most enterprises already have some elements of omnichannel enablement in place, the obvious step is to assess and evaluate the current technology and see if it is better to replace or modernize existing systems. While this can be done inhouse, an external partner who has worked across technologies and platforms can provide valuable insights.
Today retailers moving to omnichannel fulfillment are leveraging the power of MACH architecture to create modern commerce solutions to do so.
Why MACH Architecture?
MACH stands for micro-services based, API-first, cloud-native, and headless, allowing retailers to respond to change more quickly. Solutions based on MACH architecture allows enterprises to respond quickly to changes in shopping behavior.
Microservices
Microservices provide flexibility and scalability by using small, modular services that can be developed and deployed separately. This allows retailers to update portions of the software or add additional modules without having to redesign the entire underlying software.
Adopting microservices can significantly increase speed and service. For example, when SkillNet used microservices architecture during modernization of legacy point of sales (POS) systems for a retail chain across 1,400 stores and eCommerce sites, it resulted in 5.5X growth in transactions in three years.
API-first
Adopting an Application Programming Interface (API) mindset, retailers use APIs as the primary interface for integrating systems and services. This allows for greater integration, making it easier to use best-in-class solutions along with different programs or applications.
Cloud-native
Using a cloud-native infrastructure to build and deploy applications provides high availability and reliability, allowing access from any authorized user regardless of where they are working. Cloud resources let retailers deploy seamless communication across physical locations.
Headless
A headless approach separates the front end from the back end for greater design flexibility. By keeping the presentation layer separate from the back-end functionality, it is easier for retailers to manage multiple sales channels and multiple fulfillment channels using a consolidated database for more robust inventory control and tracking.
Omnichannel Enablement – A SkillNet BOPIS Case Study
Shifting to a modern commerce solution that connects all aspects of your customer service and removes friction points can generate big results. One example is a SkillNet client that optimized operations by shifting order fulfilment from warehouses to 50 stores across the country. By creating a customized order adaptor on the eCommerce site, adding new services to route delivery orders to designated stores, enhancing the POS system to integrate with new order processes and establishing a process to pick, pack, and fulfill from stores, they were able to make significant gains in productivity and cost reductions.
Today, 44% of orders are fulfilled from stores on average. In the first week of implementation, more than 20,000 orders were filled. By the second week, 49,0000 orders were fulfilled for an average of 7,000 a day. That adds up to some 900,000 orders being fulfilled from stores rather than warehouses.
SkillNet helps clients leverage existing and new technology to accelerate commerce, enabling digital transformation to improve the customer experience. Contact SkillNet today to learn more about Store & eCommerce Platform modernization solutions that we have designed and implemented. Reach out for an assessment of your technology stack!
References