Discover how retailers can deliver total flexibility to their customers without creating chaos behind the scenes.
As commerce continues to evolve, technology plays an integral role in meeting these expectations. Modern commerce requires exceptional experiences, wherever, however, and whenever your customers choose to shop. The question is, how can retailers deliver this flexibility without adding complexity?
Campbell, California and Appleton, Wisconsin, June 22, 2021
The mobile app offers customers an easy, individualized shopping experience while delivering value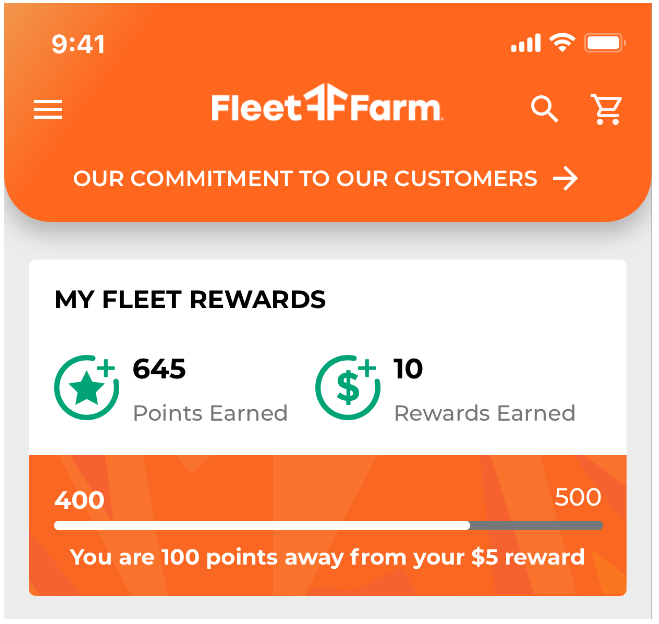 SkillNet Solutions Inc., Makers of Modern Commerce and global leader in digital transformation, partnered with Fleet Farm, a leading Midwest retailer, to design and develop the new Fleet Farm mobile app.
Fleet Farm was looking to create a unique mobile platform to improve the quality of remote and in-store shopping engagement with customers. They chose SkillNet to jointly design and create a solution that provides seamless, holistic experiences to customers.
SkillNet developed a mobile app which not only replicates customers' in-store value experiences, but also enhances their shopping interactions across the entire customer journey. The app which is fully integrated with FleetFarm.com enables customers to search and shop for thousands of products. It allows full engagement with Fleet Farm's newly launched Fleet Rewards loyalty program, including special in-app only bonuses and features. The app's shopping list feature helps customers to plan trips to the Fleet Farm store. If safety is a concern, it allows customers to skip their trip inside the store by selecting the "Outside Yard Pickup" option at checkout.
The app has been very well received by customers and has created a new revenue stream for Fleet Farm. Its adoption has been steadily increasing since launch.
"We appreciate SkillNet's dedication and omnichannel expertise in creating a compelling experience for our customers. They understand who we are and constantly work to achieve common goals for our customers." said Gary Konitzer, IT Director at Fleet Farm. "The new mobile app helps us directly connect with customers and provide better services. We are already seeing the impact of the increased engagement."
"We are thrilled to support Fleet Farm in their drive to support their customer's changing needs". said Anurag Mehta, CEO, SkillNet Solutions Inc. "Our long-standing partnership is based on shared values of focusing on superior customer experiences. By combining our commerce domain expertise with application design and engineering capabilities, we were able to help Fleet Farm create a superior mobile experience for their customers."
About SkillNet
SkillNet Solutions, Makers of Modern Commerce provide consulting and technology services to companies that are digitally transforming their retail business to modern commerce. Located in Campbell, CA, our services enable clients to rapidly anticipate and respond to changing consumer behavior. Since 1996, we have partnered with hundreds of retailers across 53 countries to enable rich customer experiences leading to solid growth. Our award-winning solutions have also enabled global brands in traditional retail, CPG, automotive, apparel, liquor, healthcare, hospitality, telecom and F&B industries to become more agile and efficient in harnessing technology. Visit us at http://www.skillnetinc.com.
About Fleet Farm
Fleet Farm has served hardworking families since 1955, offering a unique mix of high-quality, value-priced merchandise and services for active, outdoor, suburban and farm communities. Customers can find fishing, hunting and outdoor products, auto parts, farm and pet supplies, home improvement and household goods, clothing and footwear, toys and food, plus services like gas, car wash and auto repair. Fleet Farm has 47 stores located across the Midwest. The company's headquarters is in Appleton, Wisconsin. For more information, visit www.FleetFarm.com.
Contact
SkillNet Solutions Inc.
Neeta Shetty
Neeta.shetty@skillnetinc.com
Find out how successful retailers quickly introduce new customer journeys to support changing customer behavior.
COVID-19 is reshaping modern retail. While sales are recovering – retail sales in the US increased 9.4 percent last March over the previous month and were up 26.9 percent over last year – the change in consumer buying behavior, channel preferences and loyalty will outlive the pandemic. Optimism that comes with the vaccine will fuel a spurt in discretionary spends even as additional government stimulus will bring back demand. Naturally, the consumer suffering pandemic fatigue, will go back to some old-fashioned retail therapy and we can expect to see it play out most prominently in beauty, apparel, travel, hobby, sporting goods, and dining out.
We could debate the fact this "recovery" in store visits will be short lived, the reasoning being that consumers have begun to favor online channels. But let's admit it: consumers value the touch, feel and smell of the things they buy. Think clothes, jewelry, perfumes, a coffee mug, an avocado or even a purse or a wallet. The immersive product experience creates a pull into the stores.
Admittedly, e-commerce sales are growing fast. From being 5.1 percent of total retail sales in the US a decade ago they accounted for 21 percent of sales in 2020. But a whopping 79 percent of sales are still from brick-and-mortar stores. Stores will continue to be around, and will need to transform to offering great experience, or great convenience or both. Increasingly, smart retailers do not see the two channels as being competitive, but rather supplementing each other in the myriad paths consumers take from intent to purchase.
The tilt in favor of stores of every proclivity – from big box to pop-up, and from specialty to discount – will continue for several decades into the foreseeable future. Stores that adjust their role and purpose and remain meaningful to the consumer will win. Those that don't will perish.
Many interesting changes in retail are already underway, even as the pandemic rages across the world. Dark stores offering curbside pickups are on the rise along with a `buy on line, pick up in store' (BOPIS) trend. These models point to the convergence of channels. With the use of analytics for consumer insight and automation for fulfilment, these models will improve and bring down costs. In hindsight, they will look like obvious evolutionary steps.
However, smart retailers are working harder. They are focused on super charging the in-store experience and the convenience they bring to consumers. These modern trends will prove revolutionary to retail as we head into the next normal.
It is natural for retailers to do everything they can to protect the investments made in their stores. There is no reason stores should be left to underperform. This is where four deep-impact measures of retail store management come into play, placing stores in a position to have healthy bottom lines:
Integrate physical and digital assets, making for the best experience. Provide a content-rich, intuitive and immersive experience for all online and in-app interactions. Does your consumer want to chat with a store executive or a product expert before visiting the store? Does your consumer need an online demo for a product before checking the product in the store? Provide this using live text and video interactions. Use automated bots where possible, handing over the interaction to live service executives where necessary.
Create fresh in-store experiences that provide customers a reason to visit, make it personal. For example, make the store a place of discovery using store-only or in-stores-first product launches that draw consumers into returning. Use consumer data captured from every touch point – store visits, card and loyalty data, social media, website footprint, surveys, CRM and partner data – to shape in-store consumer interactions. Most important, help consumers seamlessly continue their online journey when they visit the store.
Make it convenient, make it interesting, make it rewarding. Do your consumers want to try your products before they buy? The cosmetic industry turned this approach into a fine art, allowing consumers to try various styles in the presence of an expert. Can your grocery store have a master chef to adroitly guide consumers, answer questions and put their apprehensions to rest? Can your white goods store have a well-informed engineer available – perhaps online – to gently turn consumers into confident power buyers by decoding and simplifying technical details using AR and VR? Will you provide day care to turn shopping into a pleasure for the harried mother?
Go contactless, make it safe. Provide self-service options ranging from the ability to check product details using a QR code, easily look up alternatives and options for products, order and return products, make payments and track refunds. The goal should be to make the experience comfortable, non-intrusive, dependable, simple and safe.
A variety of industries have evolved with the business landscape and with changing consumer demands. One example is of the adjacent entertainment industry. Movie theatres went from being massive 600-seaters showing a single movie into becoming clusters of small and classy 100-seater multiplexes offering online movie trailers, the ability to book tickets online, enjoy a variety of movies in the same multiplex, soak in the Dolby surround sound, get joyfully overwhelmed by 3D, gawk at the digital sharpness on the big screen, and sink into luxurious beds with freshly laundered blankets. Some multiplexes went as far as to combine movies with a fine dining experience with menus created by celebrity chefs. The industry changed itself by bringing an unrelenting focus to experience and convenience to stay in step with changing times.
The pandemic has made it abundantly clear that retail cannot keep going down the traditional path. Expectations and needs have changed. It is time to re-imagine the retail store through the lens of modern marketing and commerce, upping the differentiation by improving experience and convenience.
This post was first published on Medium.com
In his yearly letter to shareholders published 15th of April 2021, Jeff Bezos shared some fascinating back of the envelope calculations on the value that Amazon creates to its customers.
28% of purchases at Amazon are completed in three minutes or less and 50% in less than 15 minutes. He concludes than on average a shop in Amazon takes 15 minutes. In contrast, he mentions that a visit to a store would take on average an hour and each customer would save two visits to the store per week (this latter part lacks mention of how that data was arrived to) If a time saving is value as 10$ per hour and multiplied by the 200 million of Amazon Prime members, the value creation in 2020 alone is $126 billion (after discounting the cost of Prime member fees)
As Amazon prime member myself, I have completed many of these quick purchases and find the value proposition compelling. However comparing time of purchase in store, which includes time to travel, with time for a digital sale is not a fair comparison. The lockdowns and pandemic have accelerated the transition to digital sales but should have also reminded us of the importance of the in store sales experience.
The challenge to compete with Amazon for retailers is huge. The logistics and commercial advantage that Amazon has through its scale are unparalleled. However if the main value to customers as stated by Jeff Bezos in this letter, is a frictionless digital sale, this is something that retailers can improve on today, on their own digital experiences.
A frictionless digital experience is only part of the value proposition for a store sale. If it is a convenience shop in a store, customer is not travelling to the store, the location is nearby and needs to have the ability to be in and out quickly, it is indeed the main value. Solutions around scan and go should be available so there is no need to interact with staff, if the customer doesn't want to. This is not a sale that takes an hour. However if customer is travelling to a shop, in order to be motivated to do so, having a different rich experience is what would differentiate from buying online.
Metrics to differentiate between time spent in friction in the sales process and the value add provided by an in person experience are useful to explain why people still go to shops. Investing in both frictionless digital experiences and rich interactions delivers on critical metrics to generate value and compete against Amazon. The value add can translate into entertainment, education, loyalty rewards, gamification, social interaction, or others based on the specific retail brand. This value add is part of the digital solution.
At SkillNet a lot of our focus over the last 12 months has been to help retailers to design and implement the right digital customer journeys with the metrics built-in to track and reduce friction and enrich customer experience. Starting with the customer journey allows to ask the right questions about how to best use technology to serve customers and better measure the real value creation. Knowing the technology and the retail domain operation is still critically important but not sufficient.
As Jeff Bezos reminds us in most of its public communications, Amazon's vision for being Earth's most customer-centric company has paid off well.
Being a maker of modern commerce isn't just about building cool looking applications and utilizing the latest and greatest architectural patterns. It's about a complete and holistic approach to delivering a superior customer experience. Right now, as we enter the New Normal, everyone seems to be talking "customer experience" and that's certainly a step in the right direction. But what are the mechanisms required to deliver a successful customer experience that will differentiate and separate your retail business from the competition?
Focus on the Customer
While it's important to have a strong and stable back-end supporting your applications and systems, without a focus on the front-end experience all those great integrations and data sharing won't matter once the application is deployed in stores. If the experience isn't usable and fails to meet the customer's needs, whether the customer is the consumer or employee, the application will collect dust on a shelf and not be used. This will result in an application which will be a complete waste of money.
Focusing on the front-end means talking to your customers and finding out what they want and need. What's also important to remember is that many customers may not know what they want and need. Or, worse, be wrong about what they think they want or need. If you get this wrong then you're back to "App on a Shelf". So how do you get this right?
Modern Methods for Modern Commerce
Agile
Design Thinking
DevOps
Usually, the first modern development methodology that comes to mind is Agile. While certainly not without its problems, Agile is a far cry and way above the traditional waterfall approach. It also has many different incarnations such as Kanban and Scrum that allow teams to find out what works for them. But what's most important is keeping Agile as a philosophy and remembering the key values of Agile and not let yourself get caught up in the processes and "rules" of Agile. Trust your teams to build working software through constant collaboration with customers and never be afraid to respond to change.
As you work in an Agile environment, Design Thinking becomes a critical piece of the development puzzle. By working interactively with the Design Thinking steps, and not being afraid to work the steps out of order, you can build better applications, prototypes, and a customer experience that will better serve your business. Design Thinking is about making sure you hit all the important concepts. You have to start with talking to your customers and determine what they want and need. Then you need to define these wants and needs as requirements. Next, have brainstorming sessions with your team to develop new and innovative ideas. Building a prototype based on these ideas will allow you to do some testing and get some valuable feedback. This feedback will tell you what you need to do next. Maybe you need to go back and talk to your customers again. Maybe your requirements were off. Maybe your idea needs a few tweaks.
With both Agile and Design Thinking it's time to get technical. This is where DevOps comes in. Like both Agile and Design Thinking, DevOps is an iterative approach that constantly loops back on itself to improve and proactively produce working software that is usable, desirable, and feasible. The cycle of DevOps allows for working releasable software to be in constant production. By always building releasable software on a consistent basis, you can easily react to new customer requirements instead of having to wait for a yearly scheduled release.
Continuous Improvement
The only way to improve is to collect and analyze quality feedback from your customers. There are multiple ways to generate this feedback. On one end of the spectrum are surveys. These can be sent out to customers as an email where, hopefully, enough customers will participate to create adequate actionable feedback. On the other end of the feedback generation spectrum is direct one-on-one interviews with customers. This may be more difficult with consumers than employees but it is extremely worth the effort. This is how you find out whether or not you truly understood what your customers desired and whether or not you delivered. The key here is that negative feedback is good. Negative feedback is actionable. Positive feedback feels good but doesn't really give a viable means to improve. And if you're not improving then you're stagnating and if you're stagnating then your competition is about to pass you by. In between surveys and interviews are focus groups where the opinions of groups of customers are solicited. This is another great way to gather large amounts of feedback quickly and in an inexpensive manner.
In summary, using modern methodologies, focusing on end customer experience, and gathering continuous feedback will allow retailers to deliver a successful customer experience to consumers and employees. It will also keep you to ahead of the competition by differentiating your businesses.
This is the fourth blog in a series of four blogs( Read Blog 1, Blog 2 and Blog 3) from SkillNet on how Modern Commerce Leaders have used technology to digitally transform their retail businesses to adapt to the New Normal. This ability to adapt, gives these brands a competitive advantage. While the blogs are connected each of them can be read independently.
The last year has been challenging for almost every company's bottom line. Even essential businesses like Grocery stores that saw a revenue lift, have also seen tight margins as labor and product costs rose. In this time of uncertainty, it may be hard to convince internal decision makers to make investments which will provide long term benefits.
On a recent call, a client mentioned that they convinced a skeptical Chief Financial Officer (CFO) to invest in a new multi-million dollar app enhancement by simply demonstrating how easy it was to complete a purchase on a competitor's mobile app, "within 5 minutes, because I was able to show how easily I could purchase a $30 Mr. Coffee Maker on my competitor's app, I got the funding I had been asking all year".
Change is often initiated as a reaction to market or competitive forces. However, a true Modern Commerce Leader is often trying to be an innovator, before these forces become apparent, and may not have the easy argument "our competitors are doing it". In those cases, a more strategic approach may need to be taken to get stakeholders to agree to not only a major financial investment, but a commitment that their organization will adopt new operational process changes.
At SkillNet, we look at developing a Return on Investment (ROI) model as a 5-step strategic effort:
Step 1: Define Business Needs
Step 2: Identify Costs
Step 3: Identify Benefits
Step 4: Gather KPIs and Baseline Data
Step 5: Make a Decision
In our experience, getting a customer journey defined in step 1 is critical and its effort is often underestimated. The journey could be a new or enhanced process, but a trend we have seen accelerate over the last year is the re-platforming of existing journeys to new platforms. An example of this re-platforming is the replication of the in-store shopping experience through mobile applications. Retailers, across both softlines and hardlines, are offering virtual chats with in-store sales associates. Others are creating a curbside pick-up process that allows for complimentary sales to make up for the loss of impulse purchases that would normally happen in stores. Once these customer journeys are identified and mapped, potential solutions can be identified.
We also see many Retailers stumble when trying to see if their initiatives actually paid off. Hence we make sure to include a Step 4, where Key Performance Indicators are identified prior to making a decision. Below is a model for a recent ROI exercise just completed for another client which highlights the potential solutions based on the journeys and some key performance indicators we considered.
The major benefit of taking a more strategic view when justifying a project is the alignment you will gain from stakeholders. The benefits of this alignment include a common stakeholder understanding on how your customer's experience will improve, the costs to get there, and what subjective and objective metrics will prove you made your innovation goals.
Watch the Webinar on customer engagement – Real Engagement is the new normal
This is the third of a series of four-blogs (Read Blog 1 and Blog 2) from SkillNet on how Modern Commerce Leaders are adapting to the New Normal. SkillNet defines a Modern Commerce Leader as a retail brand that is engaging customers through new customer journeys enabled by Technology. The flexibility and ability to adapt, provides these companies with a competitive advantage.
Retailers are using customer engagement not only to weather the current economic uncertainty but also to build a sustainable competitive advantage. As we surveyed retailers, both essential and non-essential, we are seeing three trends on how Customer Engagement leaders are investing their dollars strategically:
Building or enhancing existing mobile applications from a transactional to a relationship building platform
Investing in offers and programs to build customer loyalty
Offering additional fulfillment options that not only promote safety, but convenience
When it comes to the first trend, there are countless examples of Retailers investing in their mobile apps. When mobile apps first arrived, they were often just designed as extensions to the company's website, but now mobile apps have their own distinct customer journeys. An example is Avocado Mattresses which offers scheduled visual chat sessions with store team members, mimicking the in-store shopping experience from the comfort of your mobile phone.
On a recent webinar I hosted, Scott Steever, Adjunct Professor at Fashion Institute of Technology, shared his story of how his local Fairway grocery store in Brooklyn quickly turned on functionality that allowed him to have a complete contactless grocery shopping experience in-store with his app: self-scan, self-checkout, and Apple Pay all through his phone. He noted, "I don't know whether they were working on that ahead of time or they just really pivoted quickly, but in any case, it really made a difference in terms of the experience of shopping with Fairway. It greatly reduced the anxiety for me as a consumer during the early days of the pandemic in New York City."
Loyalty programs have been around for years, but recent trends show retailers are looking for innovative ways to reward their customers. According to a 2020 Marketing Week survey, 29% of brands are re-budgeting marketing dollars to fund initiatives to maintain customer loyalty. This trend is evident in mobile application integrations to existing Customer Relationship Management (CRM) packages to tailor discounts and recommend complimentary products based on previous purchase history. Other brands such as Levi's are offering a special concert series for their top customers while Sephora is offering special private beauty events.
The third trend we are seeing in engagement is providing customers with additional ways to acquire a Brand's products. Obvious additions to fulfillment options have been curbside or drive-up pick up. On a recent trip to Target after placing an order using their app and requesting drive-up pick up, I timed how long I had to wait before the team member came out with my order: 33 seconds, and this was during a snowstorm! In Q3, Target reported that 75% of digital orders were fulfilled from their stores. This helped them reach some remarkable sales increases (19% same store sales), while starting the quarter with 3 % less inventory.
Another example of fulfillment innovation is seeing brands partnering with each other. Even before the Pandemic, Kohl's was offering Amazon lockers and in person return services. Another interesting example has been a test where select Walgreens' stores are offering Kroger grocery drive-up pick-up services.
Even when we return to pre-pandemic behavior, we believe these customer journey enhancements will continue to be adopted because of the convenience and safety they provide to the community and the improved profitability that these journeys realize for Modern Commerce leaders.
Watch the Webinar on customer engagement – Real Engagement is the new normal
This is the second blog in a series of 4-blogs (Read Blog 1, Blog 3, Blog 4) from SkillNet on how Modern Commerce Leaders have used technology to digitally transform their retail businesses to adapt to the New Normal. This ability to adapt, gives these brands a competitive advantage. While the blogs are connected each of them can be read independently.
During this time of uncertainty, Modern Commerce Leaders have been investing in improved customer experiences to help them build customer loyalty and to weather a drop in traffic.
A recent McKinsey study showed that in last major downturn (2008 economic crisis) the top publicly traded customer-focused companies had three times greater shareholder return than customer experience laggards.
Customer experience (CX) leaders are more resilient during recessionary periods, experiencing shallower troughs and quicker recovery
Even before the pandemic and resulting economic downturn, Modern Commerce Leaders had already begun investing in customer focused innovation, but the pandemic increased the impetus to find new ways to engage with a newly home-bound customer. More importantly, it also has resulted in massive changes to behavior, with customers being more willing to try new technologies thus reducing the challenges that retailers may have faced prior to COVID-19. As reported in CNET, Oz Alon, co-founder and CEO of HoneyBook, a financial tech startup in San Francisco said, "I do believe this is an opportunity. This is a huge event in the world, people are going to change their behaviors and a lot of things that have struggled for adoption will get a new push."
Much of the customer experience improvement has come with enhancements to existing mobile applications. Scott Steever, Adjunct Professor at Fashion Institute of Technology, on a recent SkillNet Webinar shared his own experience developing Mobile Applications for ABC Carpet and Home in New York City:
"Before the Pandemic, ABC Carpet and Home saw some customers wanting an option to be able to schedule an appointment and potentially initiate a video chat, online or through an app, with associates. Buying a $15,000 sofa or a $50,000 carpet is a major purchasing decision and anything we could do to facilitate the decision making process was seen as a win for the customer, sales associate and our bottom line. The Pandemic just pushed the adoption of this technology." Professor Steever also added, "I think tools like this that are flexible and adaptable are very important in this age of COVID 19 because we don't know when or where the next hot spot will come up. The good news is that we know this long-term investment and current adoption will give ABC a competitive advantage."
Recent earnings reports seem to support this correlation between an enhanced customer experience and better financial/operational performance as shown by three customer engagement leaders:
Target: enhanced mobile apps, fulfillment and loyalty program

Q3 2020 saw digital sales grow over $2B and drive-up service grow over 500% in Q3

20% increase in same store sales with 3% decrease in starting inventory for Q3 2020

75% of digital orders were fulfilled by stores in Q3 2020

Walmart: enhanced mobile apps, fulfillment and new subscription program

Curbside projected to drive over $7B in sales and account for 33% of digital sales in 2020

Average basket size for curbside pickup were double that of in-store baskets

Q3 2020 saw the number of transactions drop by 14%, but average ticket increased by 24% and eCommerce was up 79%

Kroger: enhanced mobile apps and fulfillment

Q3 2020 saw 108% digital sales growth and 10.9% comparable store growth

Expanded to 2,213 pickup locations and 2,468 delivery locations, covering over 98% of Kroger households

Estimates that 50% of online revenue is coming from competitor's customers
In conclusion, investments in customer engagements definitely pay off for retailers and, in today's world, pay off quickly. The good news is that it is never too late to start. Given the speed with which technology changes can be implemented to support both digital and in-store experiences today, retailers will quickly see the benefits of innovation in improved financial and operational performance.
Watch the Webinar on customer engagement – Real Engagement is the new normal
This is the first of a series of 4-blogs (Read Blog 2, Blog 3, Blog 4) from SkillNet on how Modern Commerce Leaders have used technology to digitally transform their retail businesses to adapt to the New Normal. This ability to adapt, gives these brands a competitive advantage. While the blogs are connected each of them can be read independently.
Up through the Fall of 2020, the economy looked like it was approaching a "New Normal" of economic activity. However, pessimism based on poor holiday sales and political unrest has countered the optimism coming from new stimulus spending and vaccines. Uncertainty continues to be the defining term for 2021. In this blog, we will discuss where we are on the path to the New Normal, and how retailers can support customers changes in behavior.
First question we all have is "Has the bleeding stopped?" According to TrackRecovery.org, consumer spending in week ending January 17, 2021, was up 6.5% over same time period in 2020. Driven by $600 stimulus checks, retail spending was up 25%. Consumers have dramatically shifted spending from Entertainment, Travel, and Restaurants to Essential Retail and eCommerce.
Consumer Spending up 6%; retail spending up 24.5%
Source: TrackRecovery.org
Given this situation, if your business is not seeing a rebound in Sales, you may have a problem, in that your customer may have made a long-term behavioral change. These changes can be as simple as your customer still buying your product but just not coming into the store (reducing add-on sales), to your customer finding more convenient options from your competitors. Kroger reported in their 2020 Q2 earnings call that they estimate 50% of their new digital customers are coming from their competitors.
With this consumer behavioral change, not only does a business have to worry about competitors, but also whether they have lost the traditional add-on opportunities in the urgency of making the shopping experience safer. When adding functionality online, retailers may have neglected to identify opportunities to replace the incremental sales normally associated with in store traffic. Traditional merchandising and pricing techniques, which offers add-on sales opportunities, just may not work if the customer is not walking your aisles, end caps, shelves, tables, four ways, or seeing your accompanying promotional signage.
I was recently on a call with a Midwest Essentials Retail client, and one of the initiatives they have undertaken to address this uncertainty, is to partner with SkillNet to improve customers mobile shopping experience and to offer additional customer engagement functionality that not only mimics in-store experience, but in many circumstances enhances on it. This functionality includes additional fulfillment options, appointment scheduling, loyalty program, inventory availability, personalized marketing and an enhanced consumer shopping experience.
What will help retailers regain lost sales is identify what has changed in their customer's journey. One of the ways to identify this is through financial modeling by analyzing traffic and average order values, by channel, pre-2020 and post-2021. Using technology to bridge the gap and to enhance customer experience will go a long way in deepening customer engagements and help getting the dollars back while enabling growth.
Watch the Webinar on customer engagement – Real Engagement is the new normal